Being in the forefront of tertiary education in Sri Lanka and the Region, ANC Education Holdings Ltd. will be sponsoring the EDEX Expo as a Platinum Sponsor for 2011. EDEX is the pioneering higher education and careers exhibition in Sri Lanka. EDEX is organized by the Royal College Union and each year attracts the largest and most diverse number of local and overseas participants in Colombo and Kandy.
ANC Education Holdings Ltd is the only higher education provider which offers all 3 major education systems (US, UK and Australian) in Sri Lanka. It offers accredited courses which facilitate easy transfer to prestigious universities in 6 major education destinations: US, Canada, UK, Australia, New Zealand and Malaysia.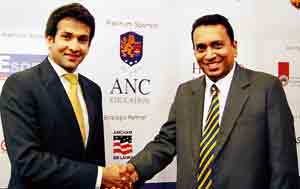 Dr.Punarjeeva Karunanayake - (CEO, ANC Education Holdings Ltd) Platinum Sponsors for Edex 2011 with Mr. Kamal Abeysinghe (Chairman - EDEX )
Situated in the heart of Colombo, ANC comprises over 75,000 square feet in two contemporary six storey buildings with capacity for 2,000 students. ANC houses 30 lecture rooms and 2 special purpose rooms, all of which are equipped with modern education facilities including computers, audio-visual equipment, comfortable seating and air-conditioning. State of the art computer equipment is available in two specialised computer labs. The Library and Resource Centre's physical library of approximately 5,000 volumes is supplemented by online access to virtual volumes (electronic books) and CDs. Wi-Fi access is available throughout our buildings and students with PDAs or notebook computers are able to download material directly.
"We are proud to be in partnership with sixteen academic universities. Six of these, namely Monash, Manchester, Leeds, Liverpool, Missouri University of Science & Technology (Missouri S&T), and Northwood are ranked in the world's top 200 universities as per Times Higher Education 2009", states Dr. Punarjeeva Karunanayake, CEO of ANC Education Holdings Ltd.
ANC is also the only College in Sri Lanka that offers accredited American university degree completion programmes in specialist career fields including Marketing, Management, International Business, Finance, Psychology, Pre-Medicine and Information Science & Technology. Degrees are awarded by Northwood University and Missouri
S&T and since the programs are directly supervised by the partner universities, the degrees received are identical to the degrees completed in the US.
Students have the option of choosing a degree in Engineering, Business, IT, Arts, Bio-Medical Science or Law and can transfer to leading universities around the world. This is generally the preferred option which the majority of ANC students have chosen to date.
"We also offer University Foundation Programmes (for O/level qualified students) which are equivalent to A/level qualifications. The Monash University Foundation Year (MUFY) has been specifically tailored for guaranteed entry to Monash and other leading Australian universities. The Northern Consortium of UK universities (NCUK) which includes four members of the prestigious Russell Group has an International Foundation Year (IFY) which ensures entry to its eleven partner universities and to other institutions who recognize the quality of this qualification", says Dr. Punarjeeva Karunanayake.
"ANC believes it has the ability to engage students due to a diverse and mixed faculty who have International experience. This is an integral part to teaching which contributes to holistic learning. Further, this assists Sri Lankan students to become accustomed to the academic environment they will encounter when they transfer to a foreign university to complete their degree programmes", states Dr. Upali Mampitiya, Chief Academic Officer (CAO) of ANC Education Holdings Ltd.
"As such ANC Education has positioned itself to become a preferred choice for students who aspire for high quality education on a global platform", says Dr. Upali Mampitiya.
"Our partner universities require every faculty member to have at least a Masters Degree in their chosen area of teaching. Building on this we are proud to say that 70% of our courses exceed this requirement and are taught by PhD qualified faculty. The quality of teaching is further assured by partner universities which endorse them to teach their respective programmes", he emphasized.
Speaking about the partnership with EDEX, Dr. Karunanayake stated, "ANC has been a long term participant at EDEX and the relationship has been getting stronger. EDEX has the largest and best established educational exhibition in the country and is professionally managed by the Royal College Union. Therefore it attracts quality students from Local and London examination bases", he concluded.
Acknowledging the sponsorship, Kamal Abeysinghe Chairman EDEX stated, "ANC has been a longstanding participant of EDEX Expo from its inception in 2004 and a gold sponsor in 2010. We are indeed very happy to welcome them as a Platinum Sponsor this time at the 8th Expo 2011".
The 8th EDEX Expo will be held on January 22nd, 23rd and 24th, 2011, at the B.M.I.C.H. Colombo and on January 26th and 27th at the Kandy City Centre respectively under its theme for 2011, "Be Wise, EDEX-Wise". (Visit ANC Education stall nos. 01 - 04s)