The finance function of Sri Lankan companies have to get more involved in deciding which business opportunities their companies invest in. This is already happening at blue chips such as John Keells Holdings, Hayleys and Aitken Spence. However, the next ier of local companies have to start getting their finance function involved, according to Kasun Abeywardene, a Finance Projects Change Manager for Heavy Oil at Shell Energy Canada.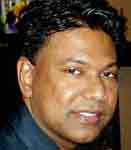 Kasun Abeywardene
Speaking to the Business Times while vacationing in Sri Lanka, Mr. Abeywardene also revealed that, according to his experience in setting up a finance academy at Shell, the new functionality for finance staff was not typically included in the teaching of finance, neither in Sri Lanka nor in other parts of the world, as it required a greater focus on soft skills as well as leadership development. In fact, Shell's finance function had to do something drastically different to capture needed improvements and so had to spin off a lot of basics.
Mr. Abeywardene also opined that the Sri Lankan talent base was increasingly weakening as a result of the ongoing brain drain. This has also resulted in the existence of a big void. He also recommended that the government put in place laws in guard against anti competitive practices as well as greater transparency, indicating the lack of the latter scares investors away. He also suggests that the country should focus more on long term investors who created greater value.
He also commented that, as a result of the global financial crisis which kicked off in 2008, there was an increasing shift towards spirituality in leaders, adding that, in Sri Lanka, what he has not yet seen is corporate leadership putting an agenda above their own personal need.
Said Mr. Abeywardene; "Without mastering ourselves, we can't and I emphasise, we can't be great leaders of others. If we are not at peace with ourselves and compassionate first towards ourselves, we can't be compassionate towards others and we can't be firm leaders doing the right thing.
Take Enron, Worldcom, etc – do you think these leaders were at peace with themselves, on the other hand take Warren Buffet – do you think he is comfortable with who he is and a compassionate leader who can demand the right things from others? We can't be leaders that others look to for guidance. If we do not have compassion, self knowledge, etc we can't be strong and firm leaders. Take all the great leaders in the recent past who have done good to society – Nelson Mandela, Gandhi, etc. – these people have left sustainable legacies behind."
Additionally, he advocates the following for improving oneself as a leader: First; "practice keeping a log of all miracles that happen to you – yes all miracles, initially, you may not be able to find any miracles, but as you progress you will find that you are making more and more miracles happen."
Second; "Practice compassion towards people when you meet people you don't know or you know – look them in the eye and silently wish the person well. Try this with people you have had issues or fights with and see how the dynamics change. Try it with your bosses. How many burdens do you want to carry – don't you feel lighter and much healthier when you don't have anger."
Third; "Daily gratitude– twice a day – give gratitude for all what you have – if you believe in a God then give gratitude to that God, if you don't believe in a God give gratitude to the universe." Fourth; "Mindfulness – at least twice a day – take 20 minutes each to meditate on your breath – keeping the mind focused on the present."