Lime is a contributor to agriculture in the village and thus becomes a part of Sri Lanka's rural economy though it may not be that significant. Yet the main concern for lime is the waste of around 20 to 30%, a phenomenon common to various other agricultural produce due to lack of storage facilities, preservation methods and mobilization constraints among other things. A major drawback in lime is that the raw juice becomes bitter when it is kept for a short while.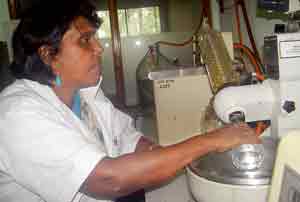 Pic shows Dr (Ms) Gooneratne attending to some research activity at an ITI Lab, and the Isotonic Lime Blast now sold in the market (Below).
Dr (Ms) Janaki Gooneratne, Head, Food Technology Section at the Industrial Technology Institute (ITI) and a researcher there for the past 30 years, has taken to heart the issue of lime going waste. Her research into this issue began few years ago and her concern extended to finding a solution to overcome the 'bitterness' in lime.
The research on lime finally succeeded toward developing a new local technology resulting in a product that is now marketed successfully. This lime product is branded as "Isotonic Lime Blast" – a natural lime based sports drink. The product won a Presidential Award at the National Science and Technology Awards Ceremony 2010. For these awards 120 applications were received under 15 categories and for the final round 20 applicants were invited, out of which five were selected for the awards. In this final round, Isotonic Lime Blast won the Presidential Award.
Speaking of her innovative of lime product, Dr Gooneratne told the Business Times this week that "lime juice turns bitter due to the presence of Limonin and it limits the application of lime juice in fruit juice industry. During juice extraction, when cells are ruptured and under acidic conditions, the opening D ring of Limonoic acid A ring lactone, closes to form limonin".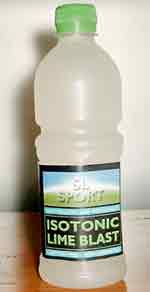 She said that it was a challenge to introduce a simplified method for the 'de-bittering' process to be used by the local industry and said that the application of this fresh lime extract in the formulation of a sports drink was the second challenge. Dr Gooneratne said that "a sports drink should quench thirst, replace sweat, and should rehydrate the body fluids quickly to provide energy to involve in sports activities. The product is now marketed and sold in all supermarkets and sports clubs." She said that it contains only natural ingredients and is free from preservatives.
The product is the only isotonic locally produced and replaces other artificially formulated drinks currently sold in the market. She added that Isotonic Lime Blast is highly acceptable and popular among children and adults engaged in high endurance activity such as swimming and running. It is the official sports drink of the Sri Lanka Davis Cup tennis team. In 2010, the ITI technologist was awarded a Fulbright Scholarship to carry out research on multiple micro nutrients at the Johns Hopkins School of Public Health, Baltimore in the US.
She had her basic education at Girls High School, Kandy and other graduate and postgraduate qualifications from the University of Allahabad and University of Bombay. In her career as a top scientific researcher at ITI she has developed successfully several other innovative products, some of which have gone to the market place. In 1994 she developed Poshitha Baby Food for malnourished children. This baby food was tested at the Lady Ridgeway Children's Hospital and found to be suitable for malnourished children. Prof S. Lamabadasuriya and Dr Pujitha Gunawardene carried out the efficacy trials on the product.
Dr Gooneratne is so engaged in her work that she now works four extra hours at home, in addition to her 8-hour hectic research schedule at the ITI Lab. Her recent scientific research has lead to astounding innovations that could stun not only the local but the international medical circles, which have now reached the final stages. In the next few weeks and months, the Business Times will walk our readers through some of these new research findings.