With cupcakes, burgers and hotdogs being all the rage at the moment it is easy to forget that there are a range of equally varying and enticing desserts and snacks freely available around Colombo. The waffle in particular is one such treat, so we at the Mirror Magazine decided to venture out to several shops and restaurants within the capital that offer the dish on their menus.
The first of these was the Hilton Hotel's M3 Café down Ramanayake Mawatha, which serves up their waffles with strawberry ice cream and a liberal spread of strawberry sauce. Apart from the ice cream, the waffle itself utilizes a simple and conventional recipe, which is not necessarily a bad thing for those who dislike being overawed by multiple toppings and other distracting innovations.
Its taste resembles that of a finely toasted slice of thin bread with a thick spread of strawberry jam, although the ice cream slightly distorts this familiar flavour. Overall though, for Rs. 150, the cozy food court's take on the waffle suffices as an affordable and appeasing morning or afternoon snack.
Another more established shop that places the delectable dessert on its customer's plates is Coffee Stop, which is housed within the Cinnamon Grand Hotel. The well visited little café, tucked away near the hotel's lobby, served up three different types of sweetly flavoured waffles. The first had its partitioned crust coated in a fine layer of mango sauce, the second came with chocolate sauce and whipped cream while the final waffle came bearing a thick layer of berry sauce which was embellished with cubes of peaches.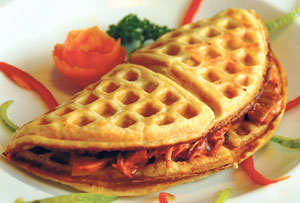 For an exorbitant price of Rs.400, each dish had set itself a dauntingly high bar of expectation to surmount. Disappointingly however, they fell several feet short of the mark. Firstly however let's begin with the positives. The chocolate sauce and whipped cream waffle was inviting to look at and even more satisfying to taste. The berries in the berry sauce offered a gratifying amalgamation of sour and sweet that forces you to keep shoveling more of it into your mouth.
Now to the negatives. All three varieties which should have provided an explosion of taste fared poorly in the waffle's texture, which is the dish's most essential component. Dissecting the waffle was akin to slicing a piece of rubber with a plastic knife, and it turned into a strenuous chore which marred the whole eating experience. So as a customer wishing to eat a quality waffle that does justice to its high price I was greatly unimpressed, and I am sure several like-minded café goers would feel the same.
Breaking away from the rule of waffles being markedly a breakfast or dessert dish, The Commons serves up waffles on their lunch and dinner menu; and it's nothing short of a hearty meal. With a set of five interesting fillings sandwiched between a waffle; these waffles are a must-try.
One of the more popular of these batter based cakes is the 'Chicken and Mushroom Waffle'. Ideal for Sri Lankan taste buds which are more inclined to spicy food. The savoury filling is a large portion of shredded chicken and button mushrooms in a winning combo of chilli-spicy and tomato-sweet sauce. The waffle is light and batter based so it isn't over bearing and it's more of a sleeve to hold together the star of the show; the mouth-watering and generously packed filling.
Other waffles on the menu include the Crab Soufflé, Prawn Curry (more of a thick sauce than a drippy curry) and of course not having left out the vegans- the Spicy Vegetable waffle. Each waffle is priced at Rs. 380. While these waffles are a meal by themselves, the legendary 'Seafood Waffle' served at The Commons is large enough to feed two. Wide and spread out on the platter, the Seafood Waffle consists of 6 square-shaped waffles topped with a liberal helping of a creamy seafood spread. The spread is a mixture of cream cheese, tuna, crab, cuttlefish, prawns and herbs. The blend of seafood makes an interesting texture with alternating flavours of tuna and sweet crab teasing you taste-buds with every bite.
Its size coupled with the treat-to-the taste-bud spread is what makes this dish a legend among the waffles available at The Commons, and it's priced at Rs. 595.
It's best noted though that the prices of the food are subjected to taxes. For more information about The Commons, feel free to visit their website- http://www.thecommonscolombo.com/.
Taking on waffles as its main fare, Waffles Etc. have 8 different waffles to offer. The 'Etc.' is an addition of 12 toppings that customers are free to mix and match, and combine to their preference. The toppings include strawberries, Nutella, fruit salad, ice cream, chocolate mousse, curd, bee honey sauce, butterscotch and whipped cream to name some. The least priced being a scoop of curd at Rs. 75 and the most being strawberries at Rs. 180.
Whipped up by their charming and affable chef, and tied with her superb service eating out at Waffles. Etc. is made that much more delightful. The waffles she fixes up for you are of an authentic Belgium recipe, which is dough based. This in turn gives the waffle a distinctly different texture from what we've come across in Colombo after scouting the city for waffles, and it's quite possibly the best.
Waffles Etc. also has a set menu of sweet and savoury toppings to accompany the champion base waffle. Some of their interesting waffles include the Ceylon Red Curried Chicken, Vietnamese Chicken, Crisp seafood and the Thai Vegetarian Stew. Prices range from Rs. 190 to Rs. 360. Located at Alexander Place, Waffles Etc. is at Odel- to the right of the food court, you're advised to make your order and return to the waffle bar after having done your shopping, as it takes roughly 20 minutes to whip up; provided yours is their only order.
And there you have it. For food that's not run-of-the-mill, and can be had either sweet or savoury, snack or meal; (talk about versatility) waffles are a good choice.