Depicting a great personality like Mother Teresa and her love and compassion for humanity by way of pen and ink is not easy. But up to the task was Lankan artist Athula Siriwardane who was chosen to illustrate in comic form a biography of this beatified saviour of the poor and winner of the Nobel Peace Prize. The book published by Amar Chithra Katha (ACK) Media was launched on August 26 to coincide with Mother Teresa's 100th birth anniversary.
The 40-page book depicts Mother Teresa's mission beginning with her life as a 12-year-old from Albania and her subsequent move to India where she embraced the poor and the suffering. It documents the launching of the Missionaries of Charity and how her selfless love and care reached the rich and the poor alike in a ministry that would touch the world.
Though he had contributed to many ACK junior collections before, Athula felt the task challenging. On the one hand, it was his first attempt at a biographical work in comics. On the other, her richness of character made the task of capturing the real Mother Teresa a difficult one.
"I didn't know much about Mother Teresa's life story though I knew of her as a person. So I did a lot of research when I got the invitation from ACK Editor Reena Puri. When I started drawing I couldn't handle it despite the fact that I had the ability to draw any object by looking at it. So I did more research, read books, watched films and studied the photographs to understand the character well," Athula says.
Soon he found he was getting emotionally involved with her story and there were times his eyes would fill with tears while reading about Mother Teresa's service to society, he says.
"Once I got some insight into her life, drawing became easier, though sometimes I had to redraw the sketches several times," Athula says pointing out that there is a difference between drawing a real-life story and fiction. "Drawing a fictiontake is easy as what needs to be captured is the character in the mind of the writer whereas a biography is based on real-life characters and situations."
Athula says he completed much of the work on the book within three months and he feels the book is special because it also covers Mother Teresa's childhood in great detail. It explains some lesser known facts about how she began her mission of caring for the marginalized, the poor and the sick at the age of 12 and how she accompanied her mother in assisting the needy.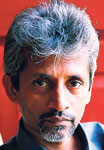 Athula the artist
An avid reader, Athula says he developed an interest in drawing at a young age. As a child, he was drawn to the illustrations in the books he read. "I used to study the pictures over and over again while reading," he says.
An old boy of Mahinda College Galle, Athula began his professional journey at the age of 18. In 1978, he worked as an artist at Suhada, an illustrated weekly published by Lake House. Later he joined Wijeya Newspapers, drawing comic strips for Sathuta, a popular weekly then. He has also worked as a commercial artist in several advertising firms and held four solo exhibitions displaying his soft pastel drawings.
He has also done illustrations for several books published in the US. But there's a change now. After he started working on Mother Teresa's biography, Athula said he felt his artistic skills have improved a great deal.
Now Athula says he would like to do more biographies -- and given the chance, he has Abraham Lincoln in mind next.