With the appointment of an Economic Development Minister, a portfolio previous cabinets did not include, indications are that the government is adopting a more serious and focused approach to the country's economic affairs. Tourism promotion falls under the purview of the Economic Affairs Ministry, which is being run by the President's brother and Senior Advisor Basil Rajapaksa, widely regarded as a man who gets things done rather than limiting his plans to mere political rhetoric. It appears that with the shift in focus with regard to economic development, tourism is being considered vital towards speeding up the country's economic growth and seeking to minimize the huge budget deficit and the worsening debt crisis the Sri Lanka is currently faced with.
5-part series on tourism
In a 5-part series, the writer, a well-known hotel industry personality presently based in Hanoi, Vietnam, discusses a range of issues in tourism that is essential for growth and sustainable development. The first part of the series today deals with infrastructure and transportation.
There was a time governments in power did not have a clear view of the benefits tourism could offer, especially in war time. While some wanted tourism to die a natural death, certain others were dilly dallying, whether to consider it a "Thrust Industry" or an "Export Industry". Now it seems with GSP + in question and the garment industry under serious threat, tourism has emerged as a forerunner and an industry that everyone loves and is a key economic sector to increase country's foreign exchange reserves.
As a peace time industry the very nature of tourism can be used beneficially as a great 'image builder' to resurrect Sri Lanka's good name in the face of continued threats by international lobby groups and the UN itself on human rights violations. Tourists who visited the country proved that they were not deterred by such propaganda by repeatedly visiting Sri Lanka year after year and speaking highly of its beauty and her people sans any racial discrimination.
For the first time in the history, institutions meant for Poverty Reduction, Rural Economy, Livelihood Development and Samurdhi are included along within the ministry's purview together with the Dept. of Wildlife Conservation, Botanical Gardens, Zoological Gardens, Sri Lanka Tourism Development Authority (SLTDA), Sri Lanka Tourism Promotion Bureau (SLTPB), Sri Lanka Institute of Tourism & Hotel Management (SLITHM), Sri Lanka Conventions Bureau (SLCB) along with the Bureau of Investment (BOI).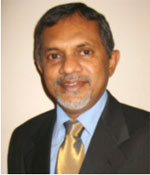 Kumar Senaratne
This structure should augur well for the macro economic development of the country as well as for micro level contributions to rural masses when the distribution is streamlined. From a tourism development perspective all institutions that are key contributors or relevant to tourism coming under one roof, are a blessing.
This strategy is bound to create a more cohesive approach and drastically reduce the red tape and bureaucracy that hinders development and the speedy completion of projects. Given its higher rate of foreign income retention in comparison with other industries, tourism could prove to be a real cash cow. Hence a powerful minister who is willing to provide good leadership and vision sans politicization and parochialism is the need of the hour to move in the right direction.
The only industry with a management apparatus built on a private, public partnership with the introduction of Tourism Act No. 38 of 2005, seems to be working reasonably well despite certain teething problems it had in the early stages. Representation by the private sector as such obviously works well for a majority privately owned industry sans becoming another state white elephant causing huge burden on state coffers and the people.
It is also pertinent to note that the Tourism CESS fund created by the Act is meant to self generate the money it needs to run all its establishments including tourism promotion. Therefore, whilst huge foreign exchange generation is expected from tourism, its expenses too should be taken care of. Obviously with higher tourism arrivals expected, the industry should be able to manage its self generated funds wisely, putting some aside for a rainy day that might occur in the future, given the volatility of the industry.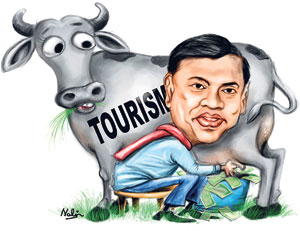 Lately there were protests to repeal the Act and go back to the old "Ceylon Tourist Board" system as certain individuals and some employees of the relevant establishments were vehemently opposing the Act. It is hoped that sanity will remain in the high positions when decisions of importance are made without bowing to political or any other undue pressure but if necessary for sensible reasons.
It will not take much for Sri Lanka to become the tourism success story that it has the potential to reach. It does not have to construct the world's tallest towers or monuments to attract visitors.
We are blessed with more natural resources of vivid splendor in a high density format than any other country in the world. The industry will however benefit greatly from the improvement of common infrastructure such as airports, roads and efficient traffic controls and transport systems. The duty reduction for vehicle imports should result in replacing and modernizing of aging tourist transport fleets offering greater comfort to match those offered at competitor destinations. If a duty free concession is extended to the industry as before, it must be with specific conditions as to the type of vehicles to be imported. There is no logic in allowing the import of expensive two-seater sports cars for "tourism purposes" as in the past when tax free permits were granted to the industry.
Taxi Service: Sri Lanka lacks a good taxi service in major tourist cities including the capital Colombo. Except for taxis operated at larger hotels for their guests, one cannot get a decent taxi on the road. This is contrary to most cities in the world which have efficient, metered, radio taxi services that offer good transport at a fair price and can be conveniently hailed. It is not all tourists that enjoy the Tuk-Tuk ride that is considered rather unsafe, uncomfortable and quite expensive for travel. It is not only foreign visitors but also locals who are charged exorbitant rates by most 3 wheeler drivers as there is no rate system in place or any other standard to protect the passenger.
Telecommunication - Sri Lanka's Telecommunication services and Internet connectivity is as good as the best in the world now, hence there is no concern in this respect. However high-speed free wifi facility is not yet offered in the rooms of many Sri Lankan hotels. Lately, this has become a standard facility guests enjoy in most countries. Sri Lankan hotels that charge for this service, sometimes even exorbitantly, should correct the situation to remain competitive as it is an influential factor in choosing a hotel, especially by many independent travelers who reserve rooms online. Some countries even have hotels that offer guests not only free wireless Internet, but even a computer in the room in order to assure their guests on constant connectivity while they holiday.
Taking care of some of these critical issues would certainly set the stage for whatever tourism goals the government is currently in the process of formulating for the next few years. It is a truth widely acknowledged that numbers are less important to the promotion of tourism than ensuring that a country is possessed of the infrastructure facilities and the natural resources necessary to make tourism sustainable in the longer term.
(Kumar is a former President of Ceylon Hotel School Graduate's Association and Kandy Hotelier's Association and has led many CSR initiatives in Community Tourism, Climate Change and Youth Employment that won international awards. He could be reached at kumarsenaratne@gmail.com).