Some 3.1 million people will be required in the Asia Pacific region alone in the field of computer networking by 2012. India currently graduates only about 20,000 IT students annually, while Sri Lanka outputs a mere 10% of its larger neighbour's load. As such, there are great opportunities in this field, according to Lokesh Mehra, the Regional Manager for Corporate Responsibility at the South Asia operation of international networking giant Cisco.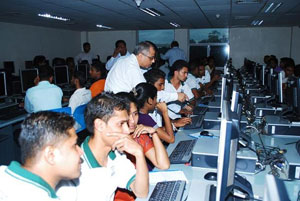 At the competition
Mr. Mehra also noted that, while computer networking was historically a male profession because of its prior focus on hardware-heavy functions; this profession had shifted to focus more on software, making it much more accessible to women. Now, women in the Asia Pacific region occupied 24% of networking jobs. However, Sri Lanka was a concern for Cisco as women occupied only 9% of local networking jobs - a number the company wanted to improve.
He also noted that, while the Sri Lankan government was on the right track with its plan to introduce computers to all schools under the Secondary Education Modernisation Project spearheaded by the Ministry of Education along its added focus on teaching English; the basic ingredients of IT adoption would ideally be more science, technology and mathematics subjects in the curriculum.
Additionally, it was important to have a conducive IT policy that enabled ordinary people to be benefited by reduced tariffs and, as such, experience direct, monetary results of IT adoption. Cases such as getting better prices for crops and fish due to technology, etc. Mr. Mehra also indicated that there were currently a number of projects across the country, and even the region, where IT was resulting in real world savings for rural communities, but these "silos" were seldom highlighted because there was no mechanism to integrate all these projects; which is what a conducive IT policy might do.
Further noting that local Cisco academies had a current intake of 1,300 students for this year, and had trained an additional 2,100 students since 2001; he anticipated that this number would increase to 5,000 students enrolled per year by 2012. He also suggested that the North and East provinces of Sri Lanka were a big priority for Cisco, especially because they are a big priority for the government.
These comments by Mr. Mehra were made on the sidelines of the third National Cisco Skills Competition, which was organised in conjunction with the Sri Lanka Institute of Information Technology (SLIIT). According to a company statement regarding the event, this "day-long competition saw participation of 150 students from 50 teams comprising of three students each from four Cisco networking academies. The skills competition comprised of three rounds which are multiple choice networking related questions followed by packet tracer simulation activities and finally troubleshooting. Such competitions help evaluate students' skills in designing, maintaining and troubleshooting computer networks so as to ensure that the quality of training being provided to students is in line with the best in the world".
The winners of the national competition was Team COM3 from SLIIT in Colombo, comprising BJR Mendis, KRDD Chathuranga and HND Perera; while the first and second runners up were Team Seven (with VR Nandasena, ND Hemachandra and LAVI Prabath from SLIIT in Malabe) and Team Edge 3 (with MDNS Peiris, Skandakumar Ramesh and Fathima Jiffry from SLIIT in Colombo), respectively.