Sri Lankan floor tile manufacturers may have to shut down their operations due to difficulties in sourcing the main raw material – ball clay - for tile production due to red tape in the sourcing process. "For the last nine months we faced difficulties in obtaining the necessary approvals to obtain ball clay. We need 4,000 metric tones of ball clay a month at our current capacity. We were getting a substantial amount of ball clay from Mahiyangana highlands (after this issue erupted), but it's only suitable for a portion of the production," Mahendra Jayasekera, Managing Director Lanka Walltile PLC (LWL) told the Business Times.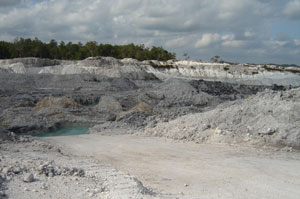 "We want to know what the outcome of our representations (to the authorities). Till then we are awaiting to see (what happens) because we want to know for sure whether we can sustain this operation," he added.
Explaining the issue, he said that in 2002 the Agrarian Development Bill came into effect prohibited mining paddy fields for anything else other than paddy cultivation. "We source ball clay from paddy fields mainly from the Waskaduwa area. In 2006 the Ministry of Agriculture, the Agrarian Development Department (ADD) and the industry came up with a simplified method of processing a licensing application for ball clay mining which directed ball clay mining firms to rehabilitate the minefields by filling them up with earth," he said.
He said the industry agreed to deposit Rs. 1 million with the Geological Survey and Mines Bureau (GSMB) for 40 perches of land a company would mine. "Before the next 40 perches is mined, 20 perches need to be back fielded with earth. So at any given time, only 20 perches is exposed with unfilled mines. But about a year ago the ADD wanted samples of the earth which is used for filling these minefields. This has become a big hassle. As a result, the Lanka Ceramics PLC which sources the raw materials for LWL and Lanka Tiles is without work for 10 months," he said.
The ADD says the industry will be given some respite soon. "The ADD appointed a technical committee and the companies forwarded some proposals to this committee," Ravi Hewavitharana, Commissioner General ADD told the Business Times when contacted. He added that the mandate of the ADD is to safeguard 12% of the paddy land in the country and sanctioning clay mining in paddy fields needs careful; consideration. "We're awaiting the technical committee recommendations to speed up this matter," he said.
Mr. Jayasekera said that LWL is investing Rs.750 million in expanding its factory capacity at Meepe, Padukka and it is scheduled to be commissioned in February 2011 generating new direct job opportunities for approximately 150 people. "The Letters of Credit have already been opened for importing machinery worth approximately Rs.350 million from Italy.
The failure to obtain a regular and consistent supply of ball clay from Waskaduwa will adversely affect the existing production and the job security of over a thousand employees at our factories in Meepe and Jalthara as well as the potential jobs to be created in the expansion project in Meepe," he added. He said the tile manufacturers other option is to import this clay which will not be profitable in the long term.