Mr. Lakshman Kannangara, a former deputy governor of the Central Bank, passed away on Wednesday. He was 85. He was also the first Business Editor of the Sunday Times, He was a student at Royal College and in a same batch as eminent personalities like Gamani Corea.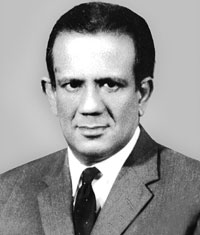 Lakshman Kannangara
Mr. Kannangara had a BA from Oxford in Philosophy, Politics and Economics (PPE) and also an MA. Most of his time at the Central Bank was spent in the Banking Supervision division where he was the director before being appointed as senior deputy governor.
He also served on the Board of the International Monetary Fund as an Alternate Executive Director.
Upon retirement from 'the bank' in 1988 after a 36-year-long and illustrious career, Mr Kannangara joined the Sunday Times as its Business Editor when on August 23, 1992 the paper launched a separate business and finance pull-out, which has become the standard for all newspapers in the country.
Mr Kannangara's counsel in the early years of the 'Business Times' was sought in the launch of this section and in guiding journalists towards writing stories that interested the business and finance community. His funeral was held yesterday.