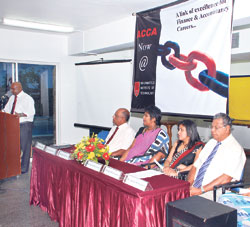 They say there is synergy created when two great institutions come together, each of the scenarios when IIT and ACCA jointly launch the ACCA qualification at 57, Ramakrishna Road, Colombo 6.
Established in 1990 with a vision to produce a new generation of qualified IT professionals, Informatics Institute of Technology is a fully-fledged campus for students.
This pioneer institute in private tertiary education gives a wonderful opportunity to acquire a full British Degree here in Sri Lanka at a much more affordable cost than studying in Uk. ACCA (the Association of Chartered Certified Accountants) is the global body for professional accountants. We aim to offer business-relevant, first-choice qualifications to people of application, ability and ambition around the world who seek a rewarding career in Accountancy, Finance and Management.
Today's world is IT driven and the computer has become central to the manager's tools. IIT and ACCA bring together two essential disciplines to garner the manager's empowerment in the business world. ACCA at IIT will be commenced by September bringing a new vista in the horizon of management education in Sri Lanka.
For more information. Web - www.iit.ac.lk. E-mail - acca@iit.ac.lk. Tel - 011 2360212.