Aviation Engineering is an incessant, lifelong passion for many individuals. Every year thousands of students who complete their primary education (O/Ls or A/Ls) decide to pursue their dream of being Aviation Engineers.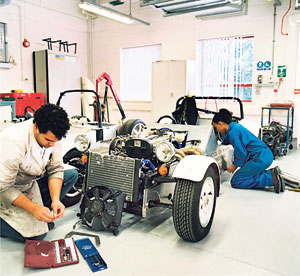 As exciting as it is, a career in aviation engineering should be carefully planned out. With the appropriate coaching and guidance however, endless avenues of success await the Aviation Engineering Professional.
"A career in aviation engineering is exciting and extremely rewarding, that is why we ensure that numerous pathways are available for students to pursue" stated Dhananjaya Weerasinghe - Director Studies at Asian Aviation Centre.
What are the future prospects for a student newly joining a study programme in aviation engineering?
"The International Air Transport Association (IATA) on July 28 announced the traffic statistics for June and it shows a continuous strong demand growth. As the Aviation Industry recovers from the global financial crisis and the volcanic ash crisis faster than expected, all the regions outside of Europe have shown double-digit growth, with Europe reporting a 7.8% passenger growth. In the Asia-Pacific region, the passenger growth has been a significant 15.5%.
Clearly, the industry is on an upward trend and several leading airlines have placed huge bulk orders for aircraft anticipating huge demands and are seeking aviation professionals, especially engineers so that airlines could increase route frequencies to meet the increasing demand for air travel around the world."
Therefore, besides lucrative remunerations and an exciting career, an excellent international career advancement prospect awaits qualified aviation engineering students" enthused the Director of Studies.
He further stated that Emirates Airlines recently ordered 30 Boeing 777-300ERs to cater to the increased air travel and Emirates has announced they require several hundreds of pilots and a multitude of engineers and technicians to cater to the increasing demand.
Our own Srilankan Airlines is currently experiencing a rapid increase in air traffic mainly due to the post-conflict growth of foreign tourist arrivals and with added frequencies and fresh routes, an increase in demand for specialized engineering personnel is inevitable.
Airbus recently announced that they had received a confirmed order for 50 Airbus A380 aircrafts, which up to now is the largest single order for the super jumbo aircraft. All these orders fuel the demand for more and more qualified engineering personnel within the industry.
"AAC offers an internationally recognised Engineering qualification from the Kingston University of London, UK and this carries significant weight when students apply for jobs even in the international job market.
And since the remuneration packages are extremely attractive it adds further incentive to the number of students taking up a career in aviation engineering each year" Director Studies further stated.
"A positive outlook in business particularly in the Middle East and Far East has been a key contributory factor fuelling the growth of the aviation industry.
We foresee the demand for aviation engineers to grow even further during the upcoming years, and we believe in preparing students to take their place among the best in the industry" concluded Dhananjaya Weerasinghe.
With an increase in requirement for engineering personnel in various capacities, a future in the lucratively prospective aviation industry is extremely promising for students with a passion for aviation engineering.
Asian Aviation Centre's Engineering Training arm, the AAC Engineering Academy is affiliated to the Kingston University of London and offers Undergraduate Degrees, Foundation Degrees and Higher National Diplomas accredited by the Institution of Engineering & Technology and Royal Aeronautical Society of UK to local students and is the only organization dedicated to provide academic and career oriented study programmes in Aviation Engineering in Sri Lanka.
For more information on pursuing an Engineering Programme in aviation after A/Ls, contact Asian Aviation Centre today.
Asian Aviation Centre. 14, Trelawney Place, Colombo - 04.