Now that the Cambridge A/Ls & As results are out ICBT campus, the leader in private sector higher education in Sri Lanka offers students a range of British Bachelors Degrees with transfer options.
For those who seek high quality education which is recognized globally and affordable in terms of time, money and accessibility the ideal venue to make this dream of obtaining a degree of world class recognition is made possible at ICBT Campus; the favorite leading private higher education provider in the country.
ICBT Campus ever since it's inception celebrating 10 years this year, has a reputation of providing high quality degree programmes from many highly reputed foreign educational partners and universities.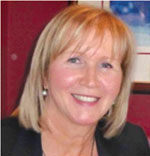 Pirkko Harvey, Centre Director Middlesex University
Degree programmes at ICBT Campus are designed in such a way that students can complete the full programme in Sri Lanka or after completion of the first two or 1 ½ years have the option of transferring to more than 100 universities around the world to complete the final years of the degree.
This is one of the most cost effective ways to complete a degree without the least compromising on quality as ICBT Campus is an ISO 9000:2001 certified company which prides itself of being awarded "A grade" the highest grade for quality of the programmes offered by Edexcel International - UK for more than five consecutive years.
ICBT campus with a decade of experience in providing excellence in education will offer state-of-the-art facilities to students such as air-conditioned lecture halls with audio visual equipment, IT labs with latest software Computers and Wi-Fi, engineering labs, libraries and recreational facilities to provide best learning experience to students. In recently released results from UK, ICBT students studying for Middlesex University in Sri Lanka have received excellent results including 8 First Class Honours, 15 second upper and 15 second lower Degrees.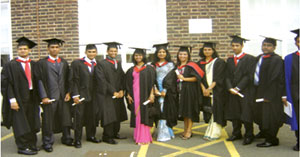 ICBT students at Middlesex Graduation 2010
At present ICBT Campus offers degree programmes in collaboration with many reputed universities in the fields of Business, Management, Computing & IT, Civil Engineering, Electrical/ Electronic Engineering, Mechanical Engineering and Quantity Surveying. ICBT Campus has five campuses for a student to choose from, conveniently located in Mt. Lavinia, Bambalapitiya, Nugegoda, Kandy and Matara.
ICBT Campus branches are equipped with state-of-the-art facilities to provide the students with the best environment to study in, with a highly qualified lecture panel to assist and guide throughout the programme.
At present more than 3000 students are studying for degree programmes at ICBT Campus and even while they are studying they are offered many jobs from the industry as the corporate sector knows that ICBT Campus does not only mould graduates but also future leaders. For further information about ICBT Campus programmes please contact :- 011-4210021 or email to :- info@icbtcampus.edu.lk or visit www.icbt.lk