"A handshake leaves a very definite and often lasting impression and is considered the most important protocol of a business greeting. A handshake should be firm but brief and made with eye contact," said Dila Hettiaratchy, a specialist on etiquette who spoke at 'You', a seminar for women of all ages, held last month.
The seminar was all about teaching women the right way to handle themselves at different times and on different occasions. They were taught even the little things and finer points, like choosing the right glass for the right kind of wine when organizing a cocktail party. Dila, along with beautician Ramani Fernando and fitness advisor Kanthi Ranchigoda, guided women of all ages, from very young teenagers to brides-to-be and mothers-to-be, through a wide range of day to day topics.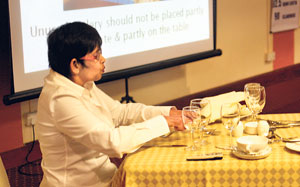 Demonstration time: Dila shows how it's done.
Dila kick-started the seminar, which was held at the Salon Anthurium in the Hotel Galadari, by speaking on various aspects of etiquette such as how to mingle in society, which included the introduction, lessons on a handshake, the social kiss and dining etiquette, as well as fine dining, with a mini lesson on wine.
The fine dining session was demonstrated during the five-course lunch. Learning how to handle spaghetti seemed a sticky area for most. Dila walking around the room with her team of two was keenly observant, giving the participants individual advice and guidance.
When it comes to dress sense the first rule is common sense. Why do most fail in their dress sense? This is because most people buy on impulse. Never ever look at an advertisement and make your purchase, as specific styles suit specific frames. Buy only if it suits you," said Ramani Fernando, who took the floor after lunch.
Some valuable advice from Ramani:
Colour co-ordination
Choose clothes that suit your complexion and the occasion
There are colours, designs and textures more suitable for day wear than night wear.
Jewellery
A simple authentic piece of jewellery gives a touch of class.
Jewellery should be limited to a good watch, necklace, earring and a ring per hand. Nothing noisy, flashy or distracting.
The older you get the more cautious you should be with the quality of the accessories you choose.
Silver, White gold or Rose Gold are recommended for Asian skin
Shoes-handbag-belt
Bags, belts and shoes should be well co-ordinated through not necessarily matching.
Trousers – Should be in a classic style and should fit well.
Blouse/shirt – The lighter shades are more appropriate for business wear. A white silk or cotton shirt cannot go wrong.
Kanthi Ranchigoda got the participants rocking with her aerobics lessons in a most innovative way. The experienced dance and aerobic instructor said many women today are looking for ways to shed calories.
Some tips from Kanthi on keeping trim:
Take the stairs instead of the lift
If you work in a large office, walk to speak to your colleagues instead of picking up the phone.
If you use buses, get off a stop or two earlier and walk.
Do not worry about finding a car park next to a supermarket or shop entrance. By the time you have found parking close by you could have walked from a further, empty and less stressful space!
If you have a cordless phone, walk and talk.
The day ended with satisfied looks on the faces of those who participated. "It was pretty enlightening. I loved the three women who conducted this workshop, they were great. I loved Dila's sense of humour. It was really nice to meet Ramani in person and get our doubts cleared. The way Kanthi conducted her workout was really good," said Veena Gamage, an MBBS graduate.
Directress of Saz Int'l, Natalie Fernando, another participant, expressed the view that these workshops should be conducted once a month and not just once a year. "It is really useful for young ones seeking jobs and for trainees. I loved the entire day, it was wonderful."
A repeat of the same programme will be held on August 29 at the same venue.