As a teacher Wendy Perera (23), doesn't discourage her young students from dancing circles around her. Instructing them to flutter gracefully around her as butterflies, the petite ballet teacher who holds classes at the Ladies College Department for Vocational Studies in Colombo is extending her passion for dancing to youngsters, showing them that there's more to dancing than what meets the eye.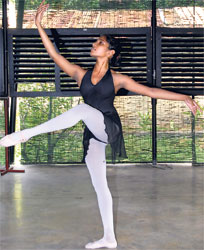 Wendy: Young and enthusiastic.
Having started out at the tender age of five years, Wendy has studied under well known ballet teachers in Sri Lanka such as Hannelore Jayasundara and Niloufer Peiris. After her A/Ls, she went on to study ballet at La Salle College of the Arts in Singapore and is currently studying for a Bachelor of Arts degree at the Colombo University. She is also a part-time member of the Maya Dance Theatre team.
Speaking about her experiences abroad, the young and bubbly teacher says that La Salle and Maya Dance Theatre have helped her learn and practise contemporary ballet. "Contemporary ballet is demanding, but first and foremost I really like classical ballet. It is the most demanding training in dancing and once you've learnt ballet you can easily learn other styles of dancing," she elaborates adding that it's not as easy to shift to ballet after having learnt other forms of dance.
Having qualified from the Royal Academy of Dance, she has the licence to teach dance anywhere in the world. And teaching, she says, is the one thing she enjoys even more than ballet. Wendy teachers her students more than dancing; she teaches them grace and poise, and she teaches them to be confident; all in a fun class of ballet.
It isn't hard to notice that her students adore her. Aged between three to 13, her students are all little girls who are thrilled to share stories with 'Aunty Wendy' and make her proud by trying their very best to follow her instructions. Unfortunately the group of about 30 students lacks boys. Though slightly disheartened by the lack of male representation in her class, Wendy shrugs it off saying that Sri Lanka is still to reach a level of confidence about boys dancing.
Dancing she says is for everyone. "Anyone can dance," says Wendy decisively, "though ballet is a more disciplined dance so it's best to start early, but that doesn't have to be the case. If you are interested, committed and truly have a passion for it, you can learn ballet at any age."
She goes on to say that at La Salle, she was expected to dance from 8 a.m. to 6 p.m. every day. While this tested her passion for dancing it could not shake her determination. "If there's anything you want you must be willing to be disciplined and deliver what is expected of you" says Wendy explaining that this lesson applies to everyone, not exclusively to aspiring ballerinas.
Wendy's class will have their debut show this October which will feature a classical performance, a performance by Wendy and possibly a hip hop dance – a special request from her students.
Wendy shares that she couldn't have achieved all that she has and come this far without the staunch support of her family- her father, mother and two sisters. Her family encouraged her to follow her dream and she is happy that she was given the opportunity. By teaching ballet, Wendy hopes to provide others that opportunity as well, showing parents that there is so much more their children can learn from ballet besides dance.