KPMG Ford, Rhodes, Thornton & Co. this week released its inaugural investment publication presenting it to Ajit Nivard Cabraal, Governor of the Central Bank of Sri Lanka and Jayampathi Bandaranayake, Chairman - Board of Investment of Sri Lanka.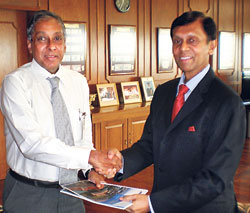 Mr.Nirmal Fernando and Mr. Ajith Nivard Cabraal
The publication captioned "Exploring the Opportunity" provides an overview of Sri Lanka's economic environment and highlights the increasing investment opportunities which have arisen in the country. The publication, comprising articles from partners of the firm, also provides sector insights for seven industry sectors which have shown high growth potential, the company said.
Senior Partner of KPMG in Sri Lanka, Nirmal Fernando said the cessation of the civil war paved the way for an 'untold opportunity for Sri Lanka, a country rich in history, culture and natural resources.'
He said Sri Lanka is now emerging as one of the most sought after investment destinations in Asia and this has created significant opportunities for investors, people as well as enterprise."
KPMG Ford, Rhodes, Thornton & Co. is the local member firm of the KPMG network which has a global presence with member firms operating in 146 countries.