Lanka Hospitals this week celebrated another milestone at the IVF Fertility Centre, with the birth of its 100th In Vitro Fertilization (IVF baby). "Within a span of 22 months the IVF Fertility Centre of Lanka Hospitals has accomplished a feat of almost 250 pregnancies and 100 newborn babies making it the most successful in Sri Lanka with a 43% success rate in COH IVF cycle on par with the best IVF centres in the world," the hospital company said.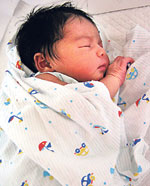 Lanka Hospitals CEO Lakith Peiris said the objective of setting up the centre was to "bring joy to couples who were distressed without children for many different reasons and give them a glorious family life".
"The success rate of The Fertility Centre at Lanka Hospitals is on par with the best IVF centres in the world," he said.Lanka Hospital's fertility centre features an Em Cell IVF chamber from Australia, which was the first ever machine of its kind in Sri Lanka; HERACell Incubators from Germany; and an Olympus Inverted Microscope and Micromanipulator from Japan. A dedicated ultra sound scan is available in the unit for follicular monitoring, egg pick up and for scan guided embryo transfer. The culture media systems to grow the embryos are sourced from VitroLife of Sweden and come directly in a cold pack ensuring maintenance of the cold chain.
The quality of the service at the centre coupled with the cost at which it's provided has also attracted many international couples from the United Kingdom, Canada, the United States of America, Maldives and the Middle East in the hopes of starting a family – which, including local patients adds up to at least 45 – 50 patients a month, officials said.