The Twycross Zoo in the East Midlands, UK on Wednesday opened its newest attraction - a Sri Lanka-inspired elephant habitat and walkway named "Uda Walawe" themed as per the UdaWalawe National Park and Elephant Sanctuary in Sri Lanka.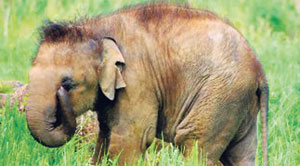 It has been built at a cost of over £ 1 Million and gives the visitors an insight to the Sri Lankan Elephants in their natural habitat as well as their interactions and reverence in the Asian Sub Continent, Sri Lanka Tourism Ministry sources said.
Uda Walawe is unique and of significance to all Sri Lankans in that it is one of the very few if not the very first experience of its kind to be built in the Western Hemisphere (Europe & Americas) themed after Sri Lanka, the sources said.
The Uda Walawe concept was the brainchild of Vasantha Nugegoda, a world renowned Zoologist and designer of zoological enclosures across the world. The UK office of the Sri Lanka Tourism Promotion Bureau has facilitated this project from its inception and together with the Twycross Zoo helped plan the ceremonial opening of the enclosure giving the visitors truly Sri Lankan experience, the sources said. "Uda Walawe" will promote the conservation of the Asian elephants and act as a shop window for crucial wildlife conservation programmes in Sri Lanka.
Tourism ministry sources quoted Suzanne Boardman, Director of Twycross Zoo as saying "Our aim is for this exhibit to forge strong links between the UK and Sri Lanka, particularly with regard to tourism. The opening of this new exhibit will help promote the need to conserve this important species globally and highlight the importance of elephants in Sri Lanka".