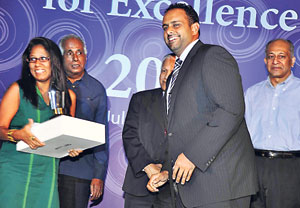 Here Shafraz Hamzadeen – CEO EZY Holdings, presents the EZY Slimbook Lite laptop, to Namini Wijedasa with Manik De Silva – President Editors Guild and Co Chairman Organising Committee, Judge C. G. Weeramantry – Chief Guest and Kumar Nadeson – Chairman Sri Lanka Press Institute, in the picture.
Sri Lankan computer manufacturer EZY recently teamed up with The Editors Guild of Sri Lanka and the Sri Lanka Press Institute to present all award winners a EZY Slimbook Laptop at the annual Journalism Awards for Excellence 2009 held on July 27.
EZY, a fully owned subsidiary of EZY Holdings, gifted 24 laptops to award winners in 14 categories, with the Journalist of the Year, Namini Wijedasa, being rewarded with the company's newest product, the EZY Slimbook Lite laptop which is yet to be launched. EZY also gave away discount vouchers to the value of Rs 5000 to all journalists.
"It has always been our vision to make computers affordable to every Sri Lankan. By setting up a local manufacturing facility our focus was to provide computers and laptops that would be more customized to suit the local user's needs. This is the reason we have been successful in providing technology that is just right for an everyday computer user, whilst ensuring we make it affordable for an ordinary citizen," said Shafraz Hamzadeen, CEO EZY Holdings.