Her life is the stuff of fairy tales. Born and brought up in Japan, she met someone from a faraway land at a railway station, fell in love and married. She bade goodbye to everything she was familiar with in Japan and embraced the culture and customs of her husband's home country -- Sri Lanka.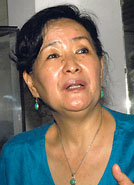 Yoko Okada
She is Yoko Okada, wife of Sri Lankan hotelier Mahinda Weerapura. She came to Sri Lanka in 1967 and has been living here for the past 43 years. Looking back, it was a culture shock coming to Sri Lanka, but she adjusted rather reluctantly, she says.
"People were simple and helpful. I never felt homesick," Yoko adds. Later on, she became the face of Sri Lanka in Japan. Writing about Sri Lanka in a magazine, broadcasting programmes about the country for a radio station and teaching Sinhala to her Japanese audience, she did it all.
And now, years later, she is trying her hand at painting. Under the guidance of Dr. Sarath Chandrajeewa, for the past six years she has worked to develop her own style which is also influenced by the ancient Japanese genre of painting --"Ukiyo-e". Yoko says she was influenced by her uncle Yoji Matusmoto, who used to save up his money to buy paint.
Yoko's exhibition, 'My Voyages' ends today (August 1) at the Lionel Wendt from 9 a.m. to 10 p.m.. The exhibition is linked to her new mission -- to raise funds for needy patients at the Maharagama Cancer Hospital. The funds will go to 'Courage, Compassion and Commitment' (CCC), which is a non-profit organisation assisting patients suffering from cancer.
"The capacity of the hospital is about 800, but about 1,000 are admitted and some 200 patients lie on the floor. Money from this venture will be spent on them, as one of CCC'S initiatives," Yoko says.
Her exhibition is called 'My Voyage' as the paintings reveal the moments she experienced and landscapes she saw while travelling.
"I am on a voyage to see and feel beautiful places. All these pictures are surroundings and scenes that I witnessed in England, Greece, Germany, Tajikistan and Italy," she says enthusiastically. Asked which country she found most beautiful among all she has visited, she says, "Each country is beautiful in its own way. I enjoyed the beauty of each and every country."
She has always been good at everything she does. She loves to travel, cook, paint and write and the list goes on, her daughter Maya adds.