SEOUL, July 24 (Reuters) - North Korea said today it would begin a "sacred war" against the United States and South Korea at "any time necessary" based on its nuclear deterrent, in response to "reckless" military exercises by the allies.
North Korea has driven tensions on the Korean peninsula to new heights after the South accused the North of sinking one of its warships in March, killing 46, and took steps to boost its defence including massive military drills with the United States.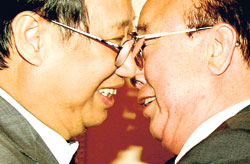 North Korea's Foreign Minister Pak Ui-chun (R) embraces Vietnam's Deputy Prime Minister Pham Gia Khiem at the Government Guest House in Hanoi July 24, 2010. REUTERS/Kham
Pyongyang customarily voiced shrill anger in the past when the allies conducted exercises, but U.S. officials said further provocations are possible, especially as the North tries to build political momentum for succession of power to Kim Jong-il's son.
U.S. and South Korean militaries will begin large-scale naval and aerial drills on Sunday with a nuclear-powered aircraft carrier taking part and they have additional exercises planned in August.
"The army and people of the DPRK will start a retaliatory sacred war of their own style based on nuclear deterrent any time necessary in order to counter the U.S. imperialists and the South Korean puppet forces deliberately pushing the situation to the brink of a war," the North's National Defence Commission said. DPRK is short for Democratic People's Republic of Korea.
"All these war manoeuvres are nothing but outright provocations aimed to stifle the DPRK by force of arms to all intents and purposes," the powerful commission said in a statement carried by the North's official KCNA news agency.
It again denied that the country was behind the sinking of South Korea's corvette Cheonan, and said the planned military drills were "as reckless an act as waking up a sleeping tiger".