ACCA (the Association of Chartered Certified Accountants) is the global body for professional accountants. ACCA has built a reputation over 100 years in offering business-relevant qualifications to people around the world, who seek a rewarding career in accountancy and finance.
Providing services through a network of 83 offices and active centres and through 57 global accountancy partnerships, they focus on professional values, ethics, and governance. Mrs. Nilusha Ranasinghe the Business Relationship Manager for ACCA in Sri Lanka stated that ACCA's current theme for 2009-2010 is Accountants for Business.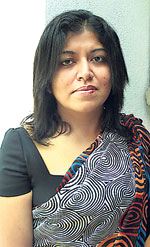 This theme emphasizes the important roles accountants play in both the private and public sectors, promoting their role as advocates of sound business practices, champions of sustainable business development and identifiers of value drivers which lead to high-performing organizations.
Mrs. Ranasinghe went on to say ACCA works closely with multinationals to promote global standards and support and aims to meet the current and future needs of international business.
Talking about the ACCA qualification, Mrs Ranasinghe said "ACCA can provide the right starting point to embark on a route to becoming a qualified accountant equipped with a qualification that employers worldwide respect. It is designed to provide the accounting knowledge, skills and professional values which will deliver finance professionals capable of building successful careers across all sectors. It is also the first professional body to offer examinations based on international accounting standards. "
Explaining about the entry requirements that a student should have for ACCA she said it should consist of two A Levels and two GCE Ordinary Level credit passes including English and Mathematics. She went on to add "However a student can also sit the Certified Accounting Technician (CAT) qualification first and then transfer to the Skills module of the ACCA Qualification by claiming exemptions from the first three papers in the Knowledge module."
"The ACCA Qualification exam syllabus is divided into two levels; Fundamentals and Professional", she continued. "The Fundamentals level which includes 9 papers is divided into two modules, Knowledge and Skills. The Knowledge module introduces a student to the core areas of financial and management accounting, providing the platform from which the other technical accountancy areas will be studied in greater detail. The Skills module contains six subjects which comprehensively cover the main technical areas that any accountant requires.
The subject areas covered at the Fundamental level are Accountant in Business, Management Accounting, Financial Accounting, Corporate and Business Law, Performance Management, Taxation, Financial Reporting, Audit and Assurance and Financial Management.
The Professional level includes five papers that cover subjects such as Professional Accounting, Corporate Reporting and Business Analysis which are the essential papers, and a student has an option of choosing two more subjects out of key areas such as Advanced Financial Management, Advanced Performance Management, Advanced Taxation and Advanced Audit and Assurance."
Mrs Ranaisnghe also emphasized "A student can choose from a variety of different worldwide study options. These include full-time courses, part-time courses, or distance learning courses. As a registered student, they will be sent copies of student accountant magazine in the post and by e-mail which is full of exam tips, technical articles, career guidance and advice, and it will help them progress through their exams, ethics module and practical experience requirements. They can also access syllabus and study guides, past exam papers, examiners' approach presentations, and examiners' reports online so that they can fully prepare for each paper before being assessed.
Speaking of the Bsc Degree programme offered , she added " ACCA and Oxford Brookes University have worked together to develop a BSc Honours in Applied Accounting, which is available to ACCA students who wish to obtain a degree while studying towards the ACCA Qualification."
She went on to say "There are numerous benefits by completing this degree. Oxford Brookes University's reputation has been recognized through the award of a national, multi-million-pound Centre of Excellence in Teaching and Learning. In an independent assessment of teaching quality, the Business School was one of only two in the country to achieve the maximum score (24/24) across more than one subject area.
So by gaining the BSc (Hons) in Applied Accounting, awarded by Oxford Brookes University, it will not only demonstrate to potential or existing employers that one possesses all the relevant graduate skills to equip them for a brilliant career in accounting and finance, but that it is from a university that has a reputation for excellence".
She concluded by saying that "the ACCA qualification is considered to be one of the highest-ranking accountancy qualifications in the world and many ACCA holders have taken up top financial positions in both the Public and Private sectors."