In a keenly contested football fixture played between two evenly matched teams, Navy needed sudden death penalties to beat Don Bosco, Negombo 2-2 (4-3) in a Holcim FA cup semi final match.
The two goals that came during regular time for the sailors were from Prasad Lakshitha and E. Sanjeeva while K. Dalpadado and Chatura Gunaratna were the two scorers for Don Bosco.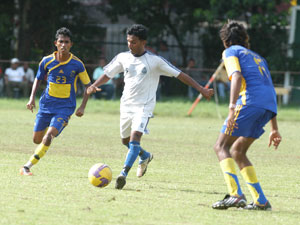 A navy player sets himself to launch a pass.
During the penalty shootout after Chatura Gunaratna missed the first penalty for Don Bosco, all pressure rested on Mahesh Savithra to convert Navy's fifth penalty and send them into the finals. However he missed with his strike and Don Bosco had a life line. There hopes were to be dashed though as Kumara Fernando missed from the spot and sent Navy sailing into the finals.
The match got off to a flying start when both sides made enterprising runs into each other's halves, exchanging possession of the ball quite regularly. Several chances went begging before finally, in the 31st minute, Prasad Lakshitha put Navy ahead. He was gifted the ball in front of goal when the Don Bosco keeper was unable to gather the ball firmly.
Ten minutes later K. Dalpadado pounced on a long pass into the box to slot home the equalizer and bring Don Bosco back into the game. The two goals seemed to energize both teams further and they continued to attack each other relentlessly until the half drew to a close.
The theme of unrelenting attack continued through the second half, however both teams were struggling to breach each other's final line of defence and score. The eventual breakthrough came for Don Bosco in the 71st minute through a brilliant Chathura Gunaratne long range strike. The ball looped from his feet, sailed over the keeper' s head and landed straight in the top corner of the net.
As tempers of both sets of fans flared, Navy struck back five minutes later through a very scrappy goal. The ball bounced around from player to player in the Don Bosco goal area before E. Sanjeeva whipped it past the keeper to draw the scores level and propel the match into the nail-biting penalty shootout.
Navy will play the finals next week against either Police or Nandimithra who will clash today at 3.30pm in Police Park.
Referee : G.N Robesh