The All Island Lanka Plate Billiards Championship 2010 conducted by the Billiards and Snooker Association of Sri Lanka (BSASL) got underway at the BSASL billiards table in Reid Avenue yesterday.
The championship is contested by 22 cueists from clubs around the island.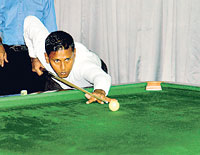 YMCA's H.A. Devapriya who beat Galle's Zyam Hussain in action. (Pic by Ranjith Perera.)
The clubs participating are MSC, Panadura BC, Kandy, MICH, Galle, Orient SC, YMCA, YMBA Colombo, Police, Cue Club and Otters AC. The tournament played on the time format saw the first round of matches being worked off which is played over a duration of one hour. The two matches played in the morning session saw YMCA's H.A. Devapriya and Otters AC's Angelo Coonghe start their campaign on a winning note.
The cueists who finish in the top eight of this tournament will qualify to play for the Billiards nationals scheduled to be played in the second week of this month. Meanwhile A.M. Manorjan of MSC, Nalin Senaratne of Police and Ranjan Ranatunge of Kandy won the Colombo, Galle and Kandy district billiards tournament which was held prior to the All Lanka Plate championship.
After the completion of the first round of matches the pre quarter final matches will be played today with the quarter final and semi finals slotted to be played on June 14 and the final on June 15.
The pre-quarter, quarter and semi finals will be played over one hour and the final will be played over two hours. The tournament will be continued today from 11.00 a.m. onwards.
Results:
H.A. Devapriya (YMCA) beat Zyam Hussain (Galle) (154-101). Angelo Coonghe (Otters AC) beat M.M.N. Jiffrey (Galle)) (194-189). Angelo Coonghe (Otters AC) beat A.M. Mukthar (MSC) (158-117).