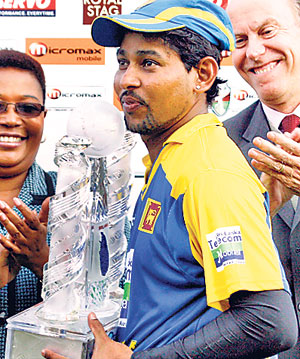 Sri Lanka interim skipper T.M. Dilshan holding aloft the Micromax Trophy.
If you were fortunate enough to tread into the Katunayake Airport VIP lounge yesterday, you would have stumbled upon an ownerless diamond studded revolving pure crystal Trophy laying idle.
This happened after the victorious Lankan younger brood arrived at the Katunayake International Airport and were made to wait for another forty five minutes for the arrival of the Interim Committee Chairman D.S. de Silva and Secretary Nishantha Ranatung who were scheduled to welcome the cricketers.
It is said that as a result of another VVIP arrival the Airport security was tight and the cricket VIPs were late to arrive at the lounge where the cricketers were.
However after the pleasantries and rituals the cricketers left BIA only to realize that they had left behind the Micromax Trophy which they fought so hard to win in Zimbabwe. SLC was making arrangements to get down the Trophy on Saturday morning.