The Institute of Certified Public Accountants is an independent, not for profit professional organisation formed with the view to promote the art and science of accounting and provide quality education and training for students to advance their knowledge, skills and capabilities to meet the changing needs of modern society.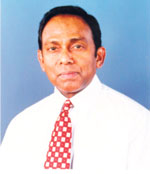 It is a national professional institute with international perspectives, dedicated to the promotion of the highest accounting, finance, auditing and ethical standards. It is committed to play a major role in human resource development in Sri Lanka.
Its vision is to be the premier accountancy qualification in Sri Lanka, comparable to the best in the world.Its mission is:
* to be the best and the most accessible provider of quality education in accounting and related disciplines
* to promote high standards of professional conduct and technical competence of members to safeguard public interest
* to enhance the value and distinctiveness of the Certified Public Accountant qualification
* to lead, develop and support accountancy professionals so that they will excel in their role and contribute to building Sri Lanka as the miracle of Asia and be key players in the global economy and
* to ensure that all Certified Public Accountants remain at the leading edge throughout their careers.
The Institute serves the diverse needs of its members, enhances their competency and professionalism, supports professional standards, promotes the value of its members and advocates on behalf of the profession.
The accounting profession - in government, corporate, and public practice - is currently in a state of flux, reflecting massive changes taking place in technology, social values and in social, government, and business institutions. It is, therefore, necessary to assure that professional education meets the changing needs of professional practice, just as the practice evolves to meet the changing needs of the society it serves.
It recognises and responds to today's changing social attitudes and incorporates a wide range of subjects, studied in a structured and integrated way, relevant to both the accountancy profession and other areas of business. The diversity of the Advisory Council members is a direct reflection of the types of talent and organizations that are needed to address the changing circumstances and multi-faceted nature of the accountancy profession.
ADVISORY COUNCIL
(1). Professor B. L. Panditharatne, B.A. (Hons), M.Sc., Ph. D. (London), D.Sc., FRGS. (GB)
Former Vice Chancellor, University of Peradeniya, former Chairman, University Grants Commission, former Chairman and Director General, NIBM., former Chairman and Managing Director, Ceylon Mineral Sands Corporation, former Chairman and Managing Director, Lanka Mineral Sands Ltd.
(2). Professor A. D. V. de S. Indraratna, President, OPA Sri Lanka.
(3). Mr Rienzie T Wijetilleke, FCIB. (London), FIB. (Sri Lanka)
Chairman Hatton National Bank, Chairman of HNB Assurance PLC, HNB Stockbrokers (Pvt.) Ltd, HNB Securities Ltd., former Chairman and Director of the Colombo Stock Exchange.
(4). M. V. Thiagarajah, FCMA., FCIAA., F.I.Mgt. (London)
Former Chairman of the Browns Group of Companies, Director of HNB. Chartered Management Accountant. He has nearly five decades of experience in commerce, finance, industry and management.
(5). Daya Jayasinghe, DIC. (London), M.Sc. (London), FCCA., ACIS., MCMI.
Chairman, Academy of Computer and Management Science Education Great Britain, Former Senior Partner Chevette Global & Co., London, Chartered Certified Accountants and Registered Auditors, former Lecturer in Accounting and Finance, University of North London and University of Middlesex, pioneer in private sector validated British university education in Sri Lanka.
(6). M. Thiyagaraja, MBA. (Colombo), ACA., FCMA., AIB., Attorney-at-Law,
Chartered Accountant, Chartered Management Accountant, Banker, Consultant in banking, accountancy, taxation and finance.
(7). Manoharan Ramanathan M.A. (Econ), ACCA., EDBA., MABE., MIMIS., FAIM., AAFC.
Chartered Certified Accountant, Senior Lecturer in Accounting, Finance and Management.
The curriculum embodies academic rigour, a practical focus and a flexible approach to both examination and training.
The course provides a critical awareness of the role, knowledge and techniques of accounting and finance in both the public and private sector and involves a blend of theoretical education and practical training and equips a student with knowledge, ability, skills and other qualities required of a professional accountant.
A special emphasis is placed on the development of the skills necessary to succeed in the modern business environment: these include computing, economics, behavioural sciences, management, research, development and analytical skills.
These are introduced from the outset and then developed through the rest of the course. CPA qualification not only gives members more opportunities, but also equips them with greater technical knowledge and better business skills.
The examinations are designed to test the extent and depth of a candidate's theoretical knowledge as well as practical training experiences. The CPA qualification exam syllabus is divided into three levels; Foundation, Graduate and Professional.
FOUNDATION LEVEL:
(1). DIPLOMA IN ACCOUNTING & FINANCE (DIP ACC/FIN.) - On successful completion of all Foundation Diploma level five subjects, students are awarded the Diploma in Accounting & Finance.
(2). ADVANCED DIPLOMA IN ACCOUNTING & FINANCE (ADV DIP ACC/FIN.) - On successful completion of Foundation Advanced Diploma level five subjects, students are awarded the Advanced Diploma in Accounting & Finance.
Students must pass all foundation level subject examinations, before attempting the graduate level subjects.
(3). GRADUATE DIPLOMA IN ACCOUNTING & FINANCE (GRAD. DIP ACC/FIN.) contains two modules plus case study. On successful completion of Graduate Diploma level subjects, students are awarded the Graduate Diploma in Accounting & Finance.
(4). PROFESSIONAL STAGE:
(a). Any three from a choice of seven (7) subjects.
(b). 1. Ethics Exam: This involves completion of an ethics course and/or an ethics exam.
2. Three years' practical experience gained before, during or after exams.
The professional accountancy qualification of Certified Public Accountant opens the door for many exciting and rewarding possibilities. The scope of this lucrative career is bright in an economically developing nation like ours and is challenging and rewarding for competent professionals. 0The growing importance of trade and industry along with the rapid growth of capital and money markets has increased the importance of qualified accountants enormously.
The CPA designation is the most widely used designation worldwide for professional accountants and enjoys wide international recognition. The Registry of the Institute of Certified Public Accountants is at 108A Maya Avenue, Colombo 6, Telephone 2508743/2500320/2829462.