Start the day, when you get up each morning, by rinsing your mouth with fluoride fresh water. Then inspect your teeth briefly, looking for stains or visible cavities that may require a prompt visit to the dentist. Examine your tongue, lips, and gums for any signs of sores or spots that should be treated or reported to the dentist.
Brush thoroughly at least twice a day, preferably in the morning and before bed. Better still would be to brush after every meal and snack.
Floss every night before brushing your teeth. Flossing between your teeth removes plaque from areas your toothbrush can't reach.
The most important time to give your teeth a good clean is last thing at night because your saliva flow is not as active at night as during the day, allowing bacteria to multiply and any food to ferment.
Place the brush at the neck of the tooth where it meets the gum and use small horizontal movements, at a 45 degree angle. Hold the brush in a pen-like grip.
Brush outer tooth surface, inner tooth surface, and the flat chewing surfaces of the back teeth.
Choose a toothbrush with a small brush head with soft bristles.
Change your toothbrush at least every three months or sooner if the bristles are splaying.
If you have widely spaced teeth, braces, bridges, or implants, you may benefit from an inter-dental toothbrush. This toothbrush has a very small tapered or cylindrical head with fine bristles.
Use a fluoride toothpaste - fluoride is proven to help prevent cavities by making the surface of teeth more resistant to acids during the process of re-mineralization.
Rinse with a fluoride mouth rinse if your dentist tells you to.
Dental floss is commonly supplied in plastic dispensers that contain 10 to 50 metres of floss. After pulling out the desired amount, the floss is pulled against a small protected blade in the dispenser to sever it.
Dental floss is held between the fingers. The floss is guided between each tooth and under the gum line to remove particles of food stuck between teeth and bacterial plaque that adhere to such dental surfaces. Ideally, the floss is curved around a tooth and placed under the gum line, and then moved away from the gum line, the floss scrapes the side of each tooth, and can also clean the front or back of the tooth. A clean section of floss can be used to clean each tooth to avoid transmitting plaque bacteria from one tooth to another. But overly vigorous or incorrect flossing can result in gum tissue damage.
There are many different kinds of dental floss commonly available. The most important variable is thickness. Dental floss may be flavoured or unflavoured, and waxed or non-waxed. Different floss will suit different mouths, and even different parts of one mouth. Get your dentist to guide you to choose one.
Dental floss is freely available in Sri Lanka.
During the course of the day, watch what you eat. Eat the beneficial foods for teeth eg food high in fibre, crunchy vegetables.
Cut down on snacking in between meals.
When you do snack; choose tooth-friendly foods such as fresh fruits, cheese, or plain yoghurt.
Limit snacks and drinks that are high in sugar. For example, cookies, cakes, pies, candies, ice cream, soft drinks. How often these sugars are eaten - rather than the amount - that is important.
If you must snack, brush your teeth afterward or chew sugarless or xylitol-containing gum after eating.
When you do eat sweets, avoid sticky sweets. They cling to teeth and are harder to brush away.
Eat sweets with a meal, not as a snack. The increased flow of saliva during a meal helps to wash away and dilute sugar.
Add less sugar to coffee or tea (or use sugar substitutes).
Don't eat acidic food or drinks such as fizzy drinks for example citrus fruit juice, carbonated beverages. Acids contained in fruit juice, vinegar and soft drinks lower the pH level of the oral cavity which causes the enamel to de-mineralize.
Look for fruit juices and drinks with no added sugar.
Tea/Green tea contains polyphenol antioxidant, plant compounds, which are thought to reduce plaque, and to help reduce cavities and gum disease. Tooth enamel can be strengthened because green tea contains fluoride.
Drink plenty of water.
Carry a travel-size toothbrush and use it after eating sweets. If you can't brush, at least rinse your mouth with water or chew a piece of sugarless gum.
Quit smoking. Using tobacco products, cigarettes or smokeless tobacco products increases your risk of oral cancer and cancers of the larynx, pharynx and esophagus, gum disease as well as causes bad breath and tooth discoloration.
Oral health and expectant mothers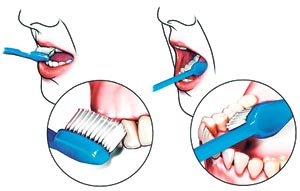 This is the way to brush your teeth
Good oral hygiene is extremely important during pregnancy because the increase of hormone levels during pregnancy can cause dental problems to be intensified.
Good oral health during pregnancy could also be important to your foetus.
Some researchers have suggested that the serious stage of gum disease, periodontitis, could cause premature birth and low birth weight.
Tooth decay, caused by acid-forming bacteria is acquired by toddlers from their mothers shortly after their first teeth erupt (generally around six months of age). This evidence also suggests that particular attention should be paid to the oral health of expectant mothers.
Brush teeth twice daily with a fluoride toothpaste and floss daily.
Limit foods containing sugar to mealtimes only.
Choose water or low-fat milk as a beverage. Avoid carbonated beverages during pregnancy.
Choose fruit rather than fruit juice to meet the recommended daily fruit intake for you and your child.
Eat small amounts of nutritious yet non-cariogenic (sugar free)foods throughout the day
Chew sugarless or xylitol-containing gum after eating.
Use gentle tooth brushing and fluoride toothpaste to prevent damage to demineralised tooth surfaces.
You can combat dry mouth by drinking plenty of water and by using sugarless hard candies or gum to stimulate saliva secretion and keep your mouth moist.
Pregnancy is not a reason to defer routine dental care or treatment.
Daily oral health care for children
Wipe an infant's teeth after feeding, especially along the gum line, with a soft cloth or soft bristled toothbrush.
Avoid saliva sharing behaviours, such as sharing a spoon when tasting baby food, cleaning a dropped pacifier by mouth or wiping the baby's mouth with saliva.
Avoid saliva-sharing behaviours between children via their toys, pacifiers, etc
Avoid putting the child to bed with a bottle or sippy cup containing anything other than water.
Supervise children's brushing and use a small amount of toothpaste at least twice a day.
Limit foods containing sugar such as to mealtimes only as the damage that sugars do depend on how frequently sugar goes into the mouth and how long it stays in the mouth.
Avoid sugar-rich foods that stay in the mouth for a long time like gum with sugar in it, suckers (or lollipops) and other hard candy.
Avoid soft, sticky foods and sweets that get stuck in the mouth such as toffee and rolled-up fruit snacks, potato chips.
Give nutritious snacks eg. carrot sticks or cheese cubes. Cheese contains calcium and phosphate, which helps balance pH in the mouth.
Your teeth should get the same amount and level of attention that the rest of your body does, including hair shampooing or nail polishing, etc. After establishing a routine, it will be easier to maintain a daily system of care that will help you have healthy, durable teeth throughout your life.
A healthy oral-care routine can help keep the sparkle in the smile you show the world every day!
(The author is a member of SLAAS Section A)