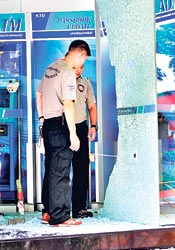 Forensic experts inspect the site of the shooting attack. AFP
BANGKOK, May 8 (Reuters) Two Thai policeman were killed and at least seven people wounded in gun and grenade attacks overnight, raising tensions just as anti-government protesters hinted they might call a halt to nearly two months of street rallies.
Prime Minister Abhisit Vejjajiva has put forward a plan to end the protests that have crippled the capital and scared off tourists, but it remains in limbo as talks drag on over the details, including a proposed early election in mid-November.
Police and an official at the state-run Erawan Medical Centre said the first policeman was killed by a gunman on a motorcycle in a drive-by shooting just before midnight, and the second in a series of suspected grenade blasts around two hours later.