Last week I had an e-mail from Washington D C. It was from a monk whom I know very well but had not been in regular touch with. The subject was titled 'Ayubovan - Invitation attached'. I was curious. I downloaded the mail. Maharagama Dhammasiri Nayaka Thera, Chief Incumbent of the Washington Buddhist Vihara is completing 50 years since his ordination and a pinkama is planned for May 2 to mark the event.
Fifty years in robes is a significant milestone in the life of a Buddhist monk. And to reach that milestone when one is 61 years old is indeed an achievement. That means the Thera had got ordained when he was a young boy.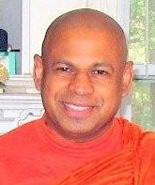 Maharagama Dhammasiri Nayaka Thera
I have known Ven Dhammasiri Thera for a good part of his life in robes. In days gone by, when we used to go to the Vajiragnana Dharmayatanaya - Bhikkhu Training Centre - at Maharagama we would first meet Madihe Pannasiha Maha Nayaka Thera and Ampitiye Rahula Loku Hamuduruwo and then make a bee-line to Dhammasiri Hamuduruwo's room. We would sit beside his table and chat.
He would talk about the Dhamma, give us news of what was happening around, ask about the family and crack a joke or two. He was had a friendly and genial personality. We felt quite free to discuss any problem with him.
Ordained when he was just 10 years and 10 months old at the Dharmayatanaya under the tutelage of Madihe Maha Nayaka Thera and Ampitiye Rahula Maha Thera, he is their most senior pupil.
Considering his seniority, with the passing away of the Maha Nayaka Thera, he was made the Viharadhikari of the Dharmayatanaya. Though he resides in Washington, he makes regular visits to Sri Lanka.
After he received his higher ordination in 1971 when he was 21, he was given responsibilities at the Dharmayatanaya. With a network of temples being gradually organized, he was sent to oversee the newly set up Vajiraramaya at the Anuradhapura New Town in 1975 where he proved his capabilities as an efficient organizer. The temple is very active to this day.
With Rahula Loku Hamuduruwo moving out of the Dharmayatanaya to lead a quieter life in solitude at Hantane, Ven Dhammasiri came back to the Dharmayatanaya in 1975 to take over more responsibilities particularly in moulding the young student monks. By this time he had become an excellent preacher and a fine teacher. Apart from the Bhikkhu Training Centre, he functioned as a visiting lecturer at the Teacher Training College, Maharagama.
Twenty years after the Washington Buddhist Vihara was established by Madihe Maha Nayaka Thera, he handpicked Ven Dhammasiri Thera to move over and function as general secretary of the Vihara Society. That was in 1987. In the following year, he succeeded Ven Dr. Henepola Gunaratana Thera as President.
As Chief Incumbent, Bhante Dhammasiri has developed the Washington Vihara planning regular activities. The meditation programmes he has organized are popular. He once told me that with the life of the Americans revolving round work, they try to get away for an hour or two on Sundays to follow the meditation classes. He has noticed that more and more foreigners are focusing on meditation rather than Buddhist philosophy.
In appreciation of his services to the Sasana, he was made the Chief Sangha Nayaka of North America by the Supreme Council of the Amarapura Nikaya presided over by Weligama Gnanaratana Maha Nayaka Thera.
He is active, energetic and dynamic. We see many more years of service in front of him as he steps on to his 51st year in robes.
Venerable Sir - here are our greetings.
Chirang Jayatu!
D. C. Ranatunga