The Jaffna Municipal Council (JMC) plans to construct a five storey shopping complex in Central Jaffna, to accommodate the influx of pavement vendors that have migrated to Jaffna from the south, since the opening of the A9 road .
While some local vendors feel this would threaten their small-scale businesses, many residents feel they could have access to a wider range of goods, at a cheaper rate.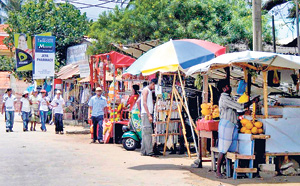 Some of the remaining shops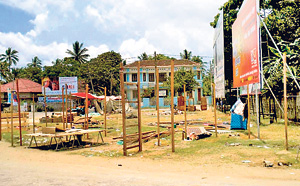 Shops being dismantled
Since the opening of the road in January this year, over 620 pavement vendors have registered with JMC, although the Municipality can only accommodate 57 vendors, based on a lottery system, at an area close to the Regal Theatre in Central Jaffna. Although the other vendors are technically unauthorized, they too pay a daily tax of Rs. 150 to the JMC. "The JMC has therefore decided to construct this shopping complex on the bare MC land on Kasturia Road, in the heart of Jaffna. We have called for tenders.
We are also awaiting a plan from an architect in Colombo, who will base the design of the complex, on a supermarket model. The land on Kasturia Road is currently being used as a parking lot for heavy vehicles, so we have to find an alternate parking space, and deal with the increasing traffic situation in the Jaffna town," said Mayor, Yogeswaray Patgunarajah.
"As of yesterday (17), the JMC started removing pavement shops from around the sacred Nallur Temple, as up until the A9 was opened this year, no pavement vendors were permitted to set up their shops near the Temple as it is considered sacred. (The only exception being during the annual Nallur Festival in August each year, where the MC calls for tenders so vendors can set up shop around the Temple, of course having to pay high taxes to do so.)
There were a total of 66 pavement shops surrounding the Nallur Temple - 12, 24 and 24 owned by Sinhala, Muslim and Tamil vendors, respectively. Only 15% of whom, are local vendors. Many of the Muslim vendors are those who have been displaced from the North for the past 20 years, and are now living in Puttalam, so we must do our best to accommodate them in particular. However, the Nallur Mudalali (Proprietor of the Temple land) had no objections to the setting up of these shops. This issue is primarily a politically driven one, essentially to fulfil the agendas of certain nationalistic political parties," the Mayor said.
"We also hope to clear the pavement of shops in and around the central bus stand area, as they seem to be causing heavy traffic . These migrant vendors are mainly from Anuradhapura, Matara, Kandy and Puttalam. They mainly deal in the sale of fruits, textiles, plastics, ceramics, furniture, tools and accessories.
These goods are much cheaper than goods sold by local vendors, and are located in public areas near the Central Bus Stand, Hospital, market etc., However, all pavement vendors have now been informed to remove their shops from the vicinity of the Nallur Temple and central bus stand.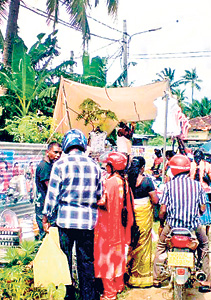 Wayside vendors in the vicinity of Nallur Temple
Some residents claim there is growing tension between local and southern vendors, as local vendors businesses are being threatened, as a result of the wholesale market culture being brought in from outside.
"My son runs a small hardware shop that sells good quality knives and tools at an economical rate. Now, however, due to wholesale vendors coming from the south and selling similar items for half the price, even though the goods are not of the same quality.
I'm not saying southern vendors should not be permitted to sell their goods here, but there must be some mechanism in place to protect local vendors and their businesses from going bankrupt," said a retired Government Servant.
In addition, it was locally reported last week that a few Southern pavement shops located in Kokuvil were burnt down. Commenting on this incident, the Mayor explained, "there's no tension between local and Southern vendors.
This particular incident was an isolated one and is said to have been the result of a drunkard who apparently threw his lit cigarette into one of the shops, which had then resulted in a fire.
We have not received any complaints from local vendors regarding the influx of vendors from outside," he added.