Teens taking an initiative, a group of teenagers have formed 'Kick The Butt' to counter the growing number of teens who have picked up the habit of smoking. Tackling the issue in an innovative way, the campaign is non-aggressive as it aims to create awareness among teens through fashion. Having designed t-shirts with catchy slogans that appeal to teens, the team launched their brand at Odel recently.
"The campaign is the world's first fashion and social media anti-teen smoking campaign" says Sarah Jameel, founder of 'Kick The Butt'. The campaign has been launched on Facebook and Twitter, and has received a strong following of supporters. Their Facebook fan page in growing with more than 1000 members and their Twitter following includes advocates and supporters from abroad as well. "We are trying to change the mind set of teenagers who smoke, as most of them smoke because of peer pressure," says Sarah.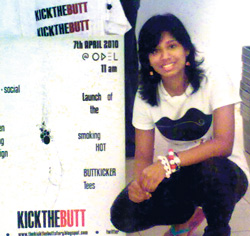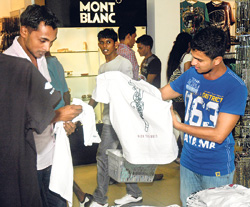 At the launch.
"The idea was pitched at the World Economic Forum and was well received," she elaborates, "but the campaign really took off after I got the opportunity to present it to Prime Minister Gordon Brown."
Foreign designers have shown interest in the concept and are planning to take the campaign back to their country as well. Having made an impression worldwide, the 'Kick The Butt' campaign, has been nominated to be featured on the Battle Front documentary as well.
Sarah has been involved in health related community service projects before, and since teen smoking has been on the rise in Sri Lanka she decided to start this campaign. "Oral cancer in Sri Lanka is the highest in the world and the causes for oral cancer are smoking and chewing beetle leaf," explains Sarah.
Designs will be updated seasonally, and will retain their appeal to the teens who smoke, as well as the other groups of teenagers who are included in the Butt Kickers' targets such as teens who have quit smoking as well as those who don't smoke. They also hope to introduce other types of merchandise in the near future- the likes of slippers as they have been approached by several teens with the suggestion.
The 'Kick The Butt' team, selected Odel as they are targeting urban teens. "We have plans to organise a 'Kick The Butt' fashion show in July and a design award," says Sarah, adding that they hope to do that in partnership with Harpos. Along with the fashion show they will launch their own website.
The response from teenagers and even parents has been positive as many have shown interest in the cause since the campaign was launched. If you feel strongly for the cause, you can show your support by getting yourself a 'Kick The Butt' t-shirt.