In today's competitive corporate jungle only the fittest survive. The soft skills required for this survival has to be initially taught and instilled in their junior and senior high schools and further developed and sharpened during their college and University career. Those who have acquired these soft skills combined with a sound educational background will be those who will be required to make Sri Lanka the next Economic Hub of South East Asia. This was aptly recognized and voiced by President Mahinda Rajapaksa in a recent speech that he delivered.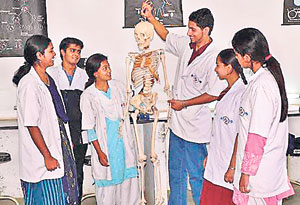 Universal Student Consultants CEO / MD Mr.Sanjeev Ganeshan mentioned that "In accordance with the view voiced by President Rajapaksa we are pleased to partner with a reputed and esteemed College in Bangalore - Krupanidhi College that upholds and understands the demands of the ever changing corporate world. It's not only the programmes offered by this College that impressed us but the other soft skills and specialized programmes offered to students as part of their education to make them globally employable citizens".
A student who enters Krupanidhi College besides getting a quality education as a result of their faculty panel, ultra modern labs and facilities also have to undergo a finishing school programme conducted by CEO from MNCs. Students also undergo six sigma and SAP workshops amongst many other modern soft skills and tools necessary to make them a "breed of their own" confident, capable and charismatic who will be every Corporate dream employee.
India is a land of excellent tradition and culture, and a centre of learning from the days of Nalanda and Takshashila. Bangalore is one of the fastest growing cities in the world, an IT-BT hub and rightly called a silicon city of India. It's also a growing centre for academics. There are many institutions for higher education giving an option for the students to choose from in Bangalore. Standing out in the arena of higher education is Krupanidhi College, whose excellence and success in imparting quality education can be traced back to over 25 years.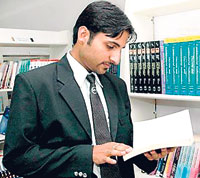 The campus is located in a pollution free environment of great scenic beauty. The college is a spectacular brainchild of a distinguished educationalist Dr. Prof. Suresh Nagpal. The aim of the college is to impart value added education founded on the principles of "Modern gurukula system". The college has highly motivated young students from different corners of India and many parts of the world. The prime objective of the college is to help the students to become educated and productive human beings to serve mankind.
Krupanidhi College is engined by competent and dedicated faculty members led by the far sighted Dean Prof. Rizwan Ali Baig and the ever agile and caring Principal Dr. Prof. Haneefa Rizwan. Thanks to the "Modern gurukula system" pioneered by the chairman himself it has produced over 300 university ranks and 100% results with distinctions over the past 25 years. Krupanidhi takes pride of a well planned infrastructure consisting of well equipped science labs, ventilated, spacious classrooms, a full fledged library and excellently furnished computer lab, placed in the midst of a lush green landscape.
Krupanidhi believes in holistic education and encourages students to come out with their best in sports, cultural and extra curricular activities. To personify each and every individual student a finishing school programme is conducted entwined with guest lecturers, group / panel discussion, workshops, seminars by experts and CEOs of reputed MNCs. Most programmes offered at Krupanidhi College are those that are globally in demand. Some of the programmes on offer are:
MBA, MCA, M.Sc.(Biotechnology), M.Sc. (Microbiology) , Master's in International Business, Master's in Finance and Accountancy, BCA, BBM, B.Com, B.Sc (Biotechnology, Genetics, Biochemistry, Microbiology, Computer Science, Statistics and Mathematics). Pharmacy Courses - D. Pharm, B. Pharm, Pharm.D (6 years Doctorate Degree Course), M. Pharm and Ph.D.
Nursing Courses in Diploma in Nursing, B. SC. (Nursing) and M.Sc. (Nursing) and
Pre-University Courses(10+2)-Residential and Day Boarding etc.
Value added courses are conducted in addition to the above courses in the areas of Computer Science, Management & Bioscience. Certification Courses in the areas of CCNA, MCSE, A+, N+, Six Sigma and SAP are conducted in collaboration with leading Industries.
We as Sri Lankans now have the opportunity to send our children to get a recognized qualification from our neighbouring country India and should be thankful to student consultancy firms such as Universal Student Consultants who offer options in higher education not only to those who want to be educated in the USA, UK or Australia but also in neighbouring countries such as Malaysia and India.
As mentioned by the CEO / MD of USC "We believe in providing guidance to the youth of this country by showing the options / choices available and ensuring they make the right choice". Furthermore, he voiced his opinion that even if one qualified in another country, with the current economic developments in the country the brain drain will be retained with the best of students coming back.
Mr. Sanjeev Ganeshan further mentioned that "We will be giving the opportunity for our students and parents to be able to meet with our partner University Delegates from Krupanidhi College in order for them to be better informed in making decisions".
Call their friendly and ever helpful staff Ms.Nadeesha Samaratunga, on 077 22 78 727 student consultant of USC or the Chairman / MD Sanjeev Ganeshan on 0777 709977 for more details about your University and career options…….