Remember these faces? These legends of yesteryear like Vincent de Paul Peiris, Vivienne de Silva Boralessa and Leticia Peiris were household names. But that was all of 60 years ago. Their golden voices are heard no more…
They have all but disappeared from public view. Aged and feeble in many cases, life for them today is now a far cry from the happy days when they were sought after and recognised wherever they went.
Versatile singer Vincent de Paul Peries was more popularly known as the 'Gay Yoddler' for his Western cowboy programme on Radio Ceylon in 1947.
Vincent strumming his guitar: Now (right) and then (left)
Having started his singing career in his schooldays in the 1930s Vincent recalled how he used to get together with his two brothers in the evenings to have sing-song sessions at home. His first stage appearance, he recalls was taking part in a fundraising concert held at St. Benedict's College in 1940.
"I was the only vocalist to hold both Western and Oriental programmes on Radio Ceylon," says a proud Vincent now in his mid 80s, with a smile.
People still like to listen to his original tunes like Bicykale, Siripade, Dumriya Lankawe and Malmala Gotha (Asoka Mala) but these songs are not played often today and so they hardly remember or even realise that the artistes behind these original tunes are still alive, he says.
Adding that he was the first to play the Hawaiian guitar on Radio Ceylon, Vincent de Paul says he still has the ability to sing without a microphone. "We still can keep the crowds going; those days there were no mikes and we had to sing so that those in the gallery could hear," he says.


Vivienne: A popular radio star of yesteryear (above) and (below) today at 80
In 2008, Vincent had a four generation musical programme at Punchi Theatre with his daughters and grandchildren also joining in. "The first show was organised by Malini Weeramuni at the Punchi Theatre and the second concert I did on my own. Four generations getting on stage is rare. People like us want to contribute and the present generation should be given a chance to listen to the old hits," he says.
A versatile actress who made her debut in the film "Hadissi Vinishchaya" in 1950 playing a comic role with Eddie Jayamanne, Leticia Peiris was beloved of many a Sri Lankan movie goer in the 50s. Sadly she is no more the vigorous actress she used to be. "She is now 76 and suffers from partial memory loss so is like a small child. She is unable to express herself. She can't remember her daughter's name," says Leticia's husband who is also partially blind and ill himself.
Her husband lamented about the conditions they live in and their lack of income to meet the cost of medication. "Only my daughter who is abroad is supporting us; see the conditions we are living in, all alone here. There is a daily helper who brings us meals from outside. After she leaves in the evening, there is no one to look after us. So we have early dinner and go to bed by about 7 p.m. Leticia has been acting for over 50 years but today no one comes to see her even and no one knows her pathetic plight."
Vivienne de Silva Boralessa, was selected to sing on Radio Ceylon following the duet she sang with her uncle in 1940. This senior artiste who is 80 years old is also facing hardship and deeply saddened that she is hardly ever invited for any of the SLBC programmes now except for a couple of invitations she received at Vesak or Poson to sing in Buddhist programmes.
Although her songs such as Dura Pena Thanithala, Sinha Kodiya, Sanda Walawo and Sisilasa were very popular and repeatedly played in the past, they are hardly ever heard on TV and radio now, she says. "Once in a while when I hear them, the feeling that I get is amazing; it automatically takes me back in time to the good old days where there were repeated requests for our songs."
But there are still fans who keep writing to her just to ask why she doesn't sing anymore, or from where they could get her old songs and whether she could do a CD etc. "Doing a CD is very costly. Last year, with the help of my children I managed to record the CD Sambudhu Mangalle with 16 songs. But I have about 800 CDs piled up in a room now which I was unable to market. I was unable to sell them to cover the cost even," she grieved.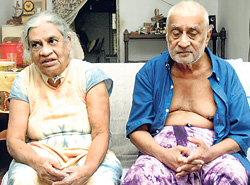 Leticia with her husband. Pix by Saman Kariyawasam and J. Weerasekera
Their talent and ability once recognised is now forgotten and it is only a few like Punchi Theatre founder and actress Malini Weeramuni who has made some effort to support them by organising shows to help them. "Such old artistes need appreciation and recognition. They deserve it and giving them the due recognition is like giving life to them," Malini says.
But the lack of sponsors makes such efforts increasingly difficult she admits though she is more than willing to organise them, she adds.
Little support for yesteryear artistes
There is a lack of pension and welfare schemes to support the artistes of yesteryear even though efforts are being made to help aging artistes, the Sunday Times found. Director of the Department of Cultural Affairs E.M. Abeyratne said that at present the insurance schemes are for artistes under the age of 60, the main one being the Sarasvathee Vishrama Vetup scheme which has 76 registered members. Traditional village artistes are covered under a payment scheme that entitles them to an annual allowance.
"However, the issue is for the old artistes who are over 60 years. Discussions are underway to plan an allowance scheme for them too," Mr. Abeyratne said, adding that about two years ago they had formed an Artistes' Trust Fund under the Public Trustee. "So now we are having discussions on working out on a plan to utilize the interest money generated by the funds collected in the Trust to look into the welfare of such old artistes," he said.
In some instances, the department extends financial assistance for medical treatment provided they could submit the relevant documents, he said.