The cruise boat drifts smoothly on the dark waters of the Huanpu River. Entire skyscrapers are lit up and this has a magical effect especially when we pass other cruise boats which are also delightfully illuminated. The water dazzles and shimmers with the reflections of the lights of buildings and boats.
We are in Shanghai, the largest city in China and one of the largest metropolitan areas in the world with over 20 million people. Located on China's central eastern coast at the mouth of the Yangtze River, it is a city of skyscrapers.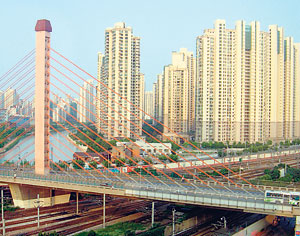 A city of skyscrapers and (below) the Jade Buddha temple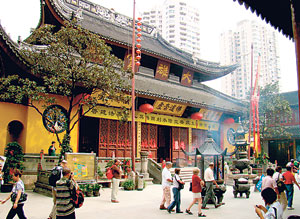 Of particular beauty is the Oriental Pearl Tower, the third tallest building in the world. It is a television tower in the shape of a rocket ready for take off. The second accessible platform where visitors could land is 862 feet high. A lift which whizzes you up to this level, takes you up at 23 feet per second. From here you get a 360 degree view of the sky scrapers of Shanghai, a veritable sea of them. It is a complete concrete jungle down below - roadways, rivers, huge highways looking like miniature strips of tarmac.
We are stepping on a glass floor, 263 metres above and beneath our feet are the city sights. After a while, one gets accustomed to walking on the glass and the initial nervousness wears off. Above it is a revolving Chinese restaurant called the Space Capsule.
A promenade alongside the skyscrapers by the river is a pleasant place to hang out early evening. Ice cream and fast food outlets do brisk business as people sit along the side of the river to relax.
As almost everyone lives in apartments, by evening everyone is out for a stroll. Some bring their pet poodles all dressed-up in red bows or ribbons. On the quiet streets with plenty of trees, people come with their bird cages and hang them up on a branch while they sit on a garden bench reading.
The next day we visit the Jade Buddha temple. Photography is prohibited. The breathtaking reclining statue of the Buddha is made of a single piece of cream jade. In the temple gardens are stunning bonsais, huge incense burners and inside numerous satin flags and statues whose faces are typically Chinese.
In the restaurants everywhere in Shanghai are round tables with glass turntables where food is passed round. We are given little bowls for the soup into which later we have to serve the steamed rice. Our plates are similar to the size of coffee cup saucers. One is expected to serve one vegetable at a time and eat with chopsticks if one can.
A delightful array of vegetable preparations is served. Bak Choy, Chinese cabbage, celery sticks and a delectable preparation of eggplant, not to mention the delicacy of Peking duck, and of course, other meats - chicken and pork and also shrimp. In one particular restaurant, stewards on roller skaters are serving food, balancing trays with pots of tea etc, much to my amazement.
We also visit a Chinese garden belonging to a wealthy Chinese of yesteryear. The garden had exquisitely laid-out ponds with cascading weeping willows trailling down into the water. A Chinese silk factory is also on our tour itinerary where the finest silks can be bought at a price.
On our last day in Shanghai, we visit the Shanghai Ocean Aquarium. In the 155 metre tunnel, the world's longest marine tunnel, killer whales and giant Mantarins lazily glide above our heads as we stand just beneath. Some of the cream coloured Mantarins are about three metres in breadth. Spotted sea lions and dugongs also swim around.
The myriad coloured fish in tanks, some quite iridescent are a remarkable sight. A huge tank which goes up to the roof had a big jelly fish (labelled – "Sea Jellies") quivering and floating around like upturned toadstools. Some tanks have sea horses, electric eels, saw fish, the Weedy Sea Dragon while other roof-high tanks have groups of penguins swimming, ducks and the Sting Rays.
Shanghai is modern China. To experience the old and the new, one should visit Beijing and for a more laid-back cultural experience, Xian.