In the face of the growing Dengue menace that continues to claim many lives, a local inventor has come up with a herbal formula that aims to biologically control mosquito propagation.
Charles de Silva from Kandana, a teacher by profession has been in the field of research over the past 30 years and has a number of patents for other items he has invented, including some herbal cosmetic products in the market today. His latest invention is what he calls Formula-ZX.
Upturned coconut shells: Breeding grounds for mosquito larvae
"The formulation is the binary infusion of the Neem (margosa) oil molecule with that of the Soya oil. By spraying this solution on to potential mosquito breeding sites such as areas with stagnant water, wells, pools, flower vases, domestic utensils, and water holding garden plants, the bio-cycle of the mosquito-larvae is interrupted by making them incapable of moulting into the next stage of their life cycle," he explains.
"Neem contains a chemical called Azedirachtin which possesses the moult-disrupting capacity. Soya contains a chemical called phosphocoline which possesses high trans-dermal penetration capacity. When these two are infused together, it easily penetrates the exoderm (outer skin) of the larva and thereby deactivates its moult- promoting hormone, ecdysone," Mr de Silva says.
The experiments carried out so far with the ZX formula have shown satisfactory results," he said adding that it had been tested by the Medical Research Institute. The MRI results show that it is effective on both Aedes albopictus and Culex quinquefasciatus mosquito with more than 90% mortality observed 48 hours after the application of larvicide on the former, and 100% mortality observed 24 hours after the application of larvicide on the latter.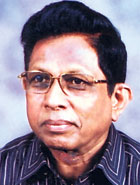 Charles de Silva
This method, he says, is both safe and economical. "Other forms of spraying such as DDT and Malathion are done at a cost to human health. They can have an impact on the environment and on bird-life and fish as well.
The greatest advantage is that this herbal formula is non-toxic," he says adding that making use of the Neem oil produced in Sri Lanka is another plus point as it is economical.
Mr. de Silva says that he started work on the dengue prevention formula two years ago after he came across a request published by the Sri Lanka Inventors' Committee for local inventors to find a method to biologically control the mosquito.
Mr. de Silva says he is willing to hand over his formula to any state or private organization for the benefit of the country. "The authorities can try out this method by carrying field tests in a particular area," he adds.