PESHAWAR, Pakistan, Jan 16, (AFP) -The Pakistani Taliban released an audio recording allegedly made Friday of leader Hakimullah Mehsud denying he had been killed in a US bombing raid as the military investigated the reports.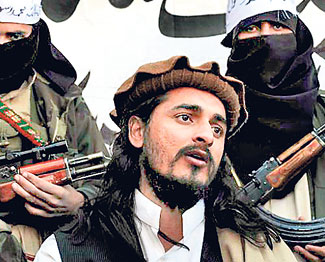 Hakimullah Mehsud
Missiles fired from an unmanned US aircraft killed at least 15 Islamist insurgents at a training camp in Pakistan's lawless northwest tribal belt Thursday, and security officials said Mehsud may have been among the dead.
The US drones kept up their bombardment Friday, with at least 11 militants killed in two separate attacks in the same region.
The government and the army say they cannot confirm Mehsud's death while the Tehreek-e-Taliban Pakistan (TTP) group he commands say he is alive and well, and sent the recording to media Friday to back up their claims.
Reporters familiar with Mehsud said the voice appeared to be his, but there was no mention of dates or the bombing alleged to have killed him, making it impossible to confirm if it was recorded before or after Thursday's strike.
"Sometimes they (the government) launch propaganda about my martyrdom through media and sometimes they say that the operation has been completed in South Waziristan. This can never happen," Mehsud said.