City & Guilds International along with its implementation partner Skills International under the "English as a Life Skill" project are bringing on board prestigious professional education institutions in order to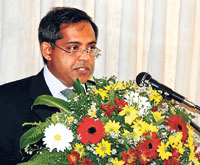 Mr. Mufthy Hashim (Country Manager City & Guilds) delivering the keynote address.
deliver the Internationally renowned City & Guilds English language qualifications. This project is part of an island wide initiative to promote English language teaching and will supplement the Communicative distance learning TV programme "English as a Life Skill" to be launched later this year. The programme has initiated in Colombo will be rolled - out island wide with a commitment to certify over 10,000 learners by the end of 2010.
City & Guilds is the world's foremost vocational qualification awarding body. Founded in the City of London in 1878, it awards more than 1.8 million certificates in 100 countries every year. It offers qualifications in over 800 subjects covering all sectors from engineering to English, hair dressing to motor vehicle maintenance and many more. With its global network of 8,500 centres City & Guilds qualifications have international acceptance.
Mr. Mufthy Hashim (Country Manager City & Guilds) handed over Centre Recognition Certificates to twenty leading educational institutions in the Western Province who have committed to promote City & Guilds English qualifications under the "English as a Life Skills" initiative at a an inauguration ceremony held at Hotel Renuka on 11 January 2009.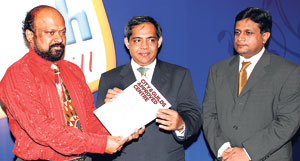 Mr. Mufthy Hashim (Country Manager City & Guilds) handing over Centre Recognition Certificate to Dr. Susil Nanayakkara.
City & Guilds offers a wide range of English Language qualifications suitable for everyone from students to professionals requiring different levels of English proficiency. These unique programmes help develop speaking, writing, reading and listening skills using real examples and tasks from entry to advanced levels. The programmes have international recognition for work, study and migration purposes.
The Spoken English for Speakers of Other Languages (SESOL) is a communicative program designed to improve the speaking skills of candidates while the English for Speakers of Other Languages (ESOL) concentrates on writing, reading and listening skills. Offered at six levels the programme caters to learners from a preliminary to an expert level. These qualifications are linked to the Common European Framework and allow candidates to compare it with other English Language qualifications.
These language programmes cater to professionals at any level of their career. The lower levels cater to those who require a basic knowledge of English while the higher levels cater to those professionals who require more complex communication skills.
The City & Guilds approach to teaching English is based on the popular Engage - Study - Activate methodology introduced by renowned English Language Consultant Jeremy Harmer. City & Guilds believes in a student centric learning environment diverting from a traditional classroom environment to more activity based learning based on student needs.
All recognized centres will be provided with a set of City & Guilds developed teaching aids for each level including a Teachers guide, student book, CDs inclusive of all teaching activities, web resources including sample papers for all levels. City & Guilds along with Skills International will provide training of resource people at periodic intervals. The programme also includes training of 250 trainers island-wide by City & Guilds consultants from UK.