Ignorance, fatigue, alcohol and reckless driving were the leading causes of most of the New Year's Eve accidents this year, a senior nursing officer attached to the Accident Service of the National Hospital said.
Pushpa Ramyani Soyza, senior nurse of the National Hospital said that 463 cases were reported to the Accident Service during the New Year period from 30 to 31 December, 2009.
"Most of the cases reported on New Year's Eve were road accidents although an increase of fire cracker injuries was expected due to increased merry making with the peaceful atmosphere prevailing in the country after the three-decade long war. Unfortunately an increase in traffic accidents was seen. Reckless driving, fatigue and alcohol use are the main causes for this increase," she said.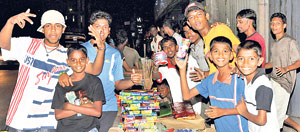 Young revellers getting ready with firecrackers to celebrate the dawn of 2010. Pic by Gemunu Wellage
"A total number of 134 road traffic accidents were reported while accidents related to driving following consumption of alcohol still prevails in the country at large," she said adding that there should be public awareness and laws should be tightened to control the increase of such accidents.The second highest incidents were 123 cases of falls and 60 home accidents with women being victims of such injuries.
"Most of them were in the course of carrying out renovations at home, slipping on newly tiled floors and falls in shopping complexes. Last minute shopping and shopping in a rush lead to such accidents," she said.
Among those who were injured 42 percent were females while 58 percent were males. More than 85 percent of the road accident victims are males.
"In previous years there were fewer injuries among women but they have increased with home injuries increasing," she said.
Sixteen firecracker injuries, 16 sports-related injuries, seven self-inflicted injuries and 36 seriously injured who were transferred from other hospitals were reported this year.
"Most of the fire cracker victims were teenagers who had lighted crackers which exploded in their hands," she said.
Assaults were the highest among the 29 violence-related incidents.