Internationally acclaimed actress Geetha Kumarasinghe was recently felicitated by her own village Bentota with a ceremony held at Gamini National College, Bentota.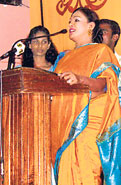 Geetha addressing the gathering at Gamini National College.
Organised by Bentota Youth Club, the divisional branch of National Youth Council Service, Geetha was felicitated for bringing pride to the area with her service to the Sri Lankan cinema.
Her long journey of acting was started three decades ago with the winning of 'Dawasa Sinhala Avurudu Kumariya', Sinhala New Year beauty queen pageant organized by 'Dawasa' newspaper held at Gamini National College.
"The culture and the tradition I have learned from this village influenced me mostly throughout my journey as an actress," Geetha said addressing the gathering. She said that all credit for her achiement in her cinema career should go to her hometown.
"Though I was awarded Best Actress for seven years, the felicitation I received from my hometown is equally important to me," she said.