It's one more Christmas tradition that lifts our spirit… the Christmas Variety Show! And true to tradition, veteran Director Jith Pieris held his 'It's Christmas Time in the City – Silver Bells' on the first Saturday of December at the Ladies' College Hall before a packed audience.
A masterful production, it brought the variety musical acts to the forefront, showing off some of the most talented singers we have in Colombo.
The show was brilliant in its simplicity. Remember the migraine-inducing gaudy décor that was once used as an excuse for Christmas? There was none of that in this elegant production where the stage was decorated with just two snowy-white Christmas trees lightly sprinkled with tiny white fairy lights – giving us that warm fuzzy feeling of peace and love.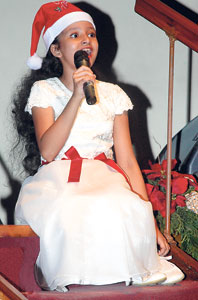 Menaheb's rendition of 'White Christmas' nearly stole the show.
The concert kicked off with a charming nativity scene enacted by the youth of CRC Dehiwela. An angelic-looking Shenali Perera seemingly floated in from the wings with a beautiful rendition of 'Once in Royal David's City' and was soon joined by the impressive all girl voices of Soul Sounds, accompanied on piano by their Director, Soundarie David. We also had the great pleasure of witnessing a beautiful selection of duets by Soundarie and Menaka de Fonseka Sahabandu - piano playing at its best. The Menaka Singers (a mixed gender group, both seniors and juniors) delighted us with their selection of Christmas carols, as did the talented all male Old Joes Choir with their exuberant conductors.
The entire show lasted just over a couple of hours and moved very quickly from one entertaining element to another, encompassing the very essence of Christmas. On the one hand was legendary singer Noeline Honter belting out (as only this lady with that amazing voice can!) an up-beat selection of seasonal melodies, including an outstanding version of 'Drummer Boy' sung to the beat of our Sri Lankan drummers – superb! And on the other hand was the ten-year-old Menaheb Suby, with her heart wrenching rendition of 'White Christmas' - a performance which very nearly stole the show!
Jazz vocalist, young Nataliya Ellapatha-Guneratne, competent and confident, was arguably the hot favourite with her mellow and surprisingly mature voice, and she even included in her repertoire an original Christmas song composed especially for 'Uncle Jith'. Eshantha d'Andrado's deep and moving baritone interpretation of 'Oh Holy Night' left us with goose bumps. I must also commend the lone guitarist who accompanied him from the shadows hidden from our view. Perhaps next time round he should stay on stage with Eshantha as his talent was outstanding.
My particular soft-spot were the three delightful young ladies in provocatively charming Santa-dresses – Saveeta, Trudy and Dimithri – who gave a lively and very mobile performance. The more experienced and talented but woefully sedate Old Joes Choir could take a tip or two from these three energetic girls whose sheer enthusiasm had us all clapping our hands and tapping our toes during their infectious and happy time on stage. Way to go girls!
The finale was by the daunting duo, Shanelle and Monique, who offered six short carols – a solo by each of them and then some powerful duets that most definitely won the hearts of many and made some new fans – including myself. Surprisingly, neither of them seemed to have bothered very much about their stage costumes - but their catchy, dusky, blues-tinged seasonal selections sung with such panache and showmanship made for an exciting ending to a delightful evening.
In selecting the cream of the crop, Jith Pieris was able to deliver a great evening that was a perfect celebration of 'Christmas Time in the City'. Each segment was short and crisp, the participants maintaining a high-energy performance that made a deep connection with the audience. These talented artistes were all masters at seducing the audience and, to their credit, none had a problem – except perhaps the two pairs of El Latino dancers who had not put enough effort or imagination into choreographing their routine for a variety show such as this. It was a lacklustre performance that served only to distract from an otherwise high-calibre melodious evening.
The show came to a rousing climax with the entire ensemble of musicians gathered on stage lustily singing 'Feliz Navidad' – with Jith Pieris, too, joining his cast for an enthusiastic ovation.