ISLAMABAD, Dec 19, (AFP) -President Asif Ali Zardari on Saturday chaired crisis talks with Pakistan's ruling party on how to prevent his government unravelling after a court scrapped an amnesty on corruption charges.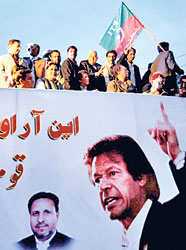 Leaders of Pakistan Tehreek-e-Insaf (Movement for Justice) gather during a rally in Lahore on December 19 in support of the Supreme Court's decision. AFP
In a bid to head off what could be the worst political crisis of his troubled 15 months in power, the president convened the central executive committee of the Pakistan People's Party (PPP) in the capital Islamabad.
The Supreme Court's move to annul a decree protecting more than 8,000 people, including Zardari and top allies, from corruption charges, has been welcomed by a public increasingly fed up with the government. But the fallout threatens to seriously distract the coalition from multiple offensives against Taliban militants, rising extremist attacks and mounting US pressure to cooperate more in the war in neighbouring Afghanistan.
A court has summoned Interior Minister Rehman Malik over re-opening a corruption case and officials banned Defence Minister Ahmed Mukhtar from leaving the country on an official visit to close ally China.
Pakistan's anti-corruption National Accountability Bureau (NAB) has called for travel bans on 253 people since Wednesday's court ruling, sparking calls for Zardari to resign and rattling the US-backed government. Prime Minister Yousuf Raza Gilani has ordered an inquiry into why Mukhtar was banned from travelling, and suspended the top civil servant at the interior ministry, a director at the Federal Investigation Agency and two inspectors.
"The party would like to take into account the point of view of its members, their suggestions and the strategy that the government should dopt,"said PPP spokeswoman Fauzia Wahab.