In a bid to promote the Olympic spirit and its values of excellence, friendship and respect among countries, the Ministry of Information Communication and the Arts (MICA) of Singapore organized the young reporters Training Camp 2009.
The training camp was organized to commemorate The Inaugural Youth Olympic Games which will take place from the August 14 -26 , 2010. School going students from 17 different countries were selected while three of them were from Singapore a student from Sri Lanka was also selected to participate in the workshop as well.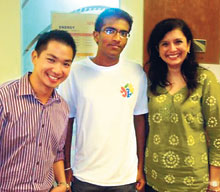 Senel with news anchors from Channel News Asia
Senel Wanniarachchi (17), an A/L Student of D.S Senanayake College, Colombo who represented Sri Lanka at this workshop had the chance with a group of other aspiring reporters to visit various media companies and Academic institutions in Singapore and also be trained in the print and electronic media streams.
Senel explained that MICA sent the invitation for the workshop to the National Olympic Committee Of Sri Lanka, And they in turn sent it to schools and conducted interviews with all those who were interested and Senel was chosen to represent Sri Lanka.
"It was an interesting experience for me," said Senel. "They took us to all the big media names in Singapore and we received training from all these places.We even visited the printing presses." He also said that the participants gained practical knowledge by working in the Channel News Asia News room where they learned about and participated in their productions and presentations.
The participants of the workshop also had the opportunity of meeting with the President of Singapore, S.R Nathan at his official residence and talk to him about his current responsibilities and his plans and policies. Senel said that this was a great privilege for him.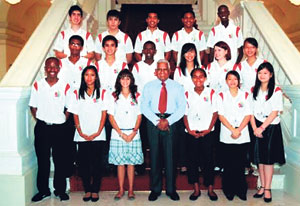 The participants with the President of Singapore, S.R. Nathan
"The overall experience was amazing", said Senel. "Apart from getting to explore Singapore, there was also the fact that apart from the three students from Singapore, everyone else was from other countries." Senel said that during his 13 day stay in Singapore, he lived, traveled and even had his meals with this multi cultural group. "We spent almost all of our time together and that was really brilliant because we learned so much about each others countries, languages and cultures," he said.
Senel concluded our conversation by giving thanks to the Principle of D.S Senanayake College, Dr. Asoka Senani Hewage and Assistant Principle Mr. Samarakkodi for making the needful arrangements for his trip.