Ahead of the Copenhagen Climate Summit that will start tomorrow, Youth from neighbouring countries of South Asia got together at Piliyandala last month to share their knowledge on how to deal with Global Warming. It was the annual workshop of SAYEN – the South Asia Youth Environment Network set up by United Nation's Environment Program (UNEP) to ensure effective Youth participation in Sustainable Development. "Managing Climate: My Responsibility and I CAN" was the theme of 2009's workshop.
But SAYEN meeting was different from global leaders' conferences which are full of heated arguments to come into a common agreement. The friendly nature of this group of young people was evident in the late evening I that I met them. Instead of some debates on climate change, it was a beautiful song that reached my ears. I couldn't understand the words as it was Bengali, but later came to know it was a song by a waiting lover – something very remotely relate to Climate Change. It was the character of these youths – after a tiresome day discussing how to battle climate change, they were enjoying the relaxing evening. Later everybody joined the Monkey dance started by a Pakistani delegate showing how much they jelled together during the shorter period of time.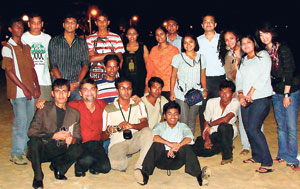 "We know that today's young people like us will be the worst hit generation to taste the bitterness of Climate Change. So we are keen to act together" said Ruchi Jain – One of the Indian Delegate. They all had their own success stories to share with others. Most of the projects they led in their countries aimed at educating the youth on environmental issues. Yashika and Nirosha of Vishaka College who represented Sri Lanka had undertaken a recycling project through their school Nature Club. Shehan – another SAYEN delegate from Sri Lanka got involved in a garbage project trying to address the issue from grassroot level. Shehan will also be one of SriLanka's Youth Delegates to the Copenhagen Summit. They all have similar experiences to share with others during SAYEN 2009.
However, the discussions were not restricted only to the topic of Global Warming. Fathimath Munal from Maldives was greatly saddened by the half-dead Hikkaduwa Coral reef seen during their field visit. "In Maldives, we are still having lots of live Reefs" she shared her experience with others. "Maldives will go under water when global warming increases the sea levels, but through youth networks in Maldives, we are trying to do our part to fight it" Fathimath said with great hope.
Delegates from Nepal, Pakistan had also seen an ocean for the first, so the coasted environmental issues were quite novel to them. However, they had their experience of Glacier melting stories to tell the others. The Himalayan Glacier melting due to Global Warming is expected to be a major issue for those who depend on rivers starting from Himalaya.
SAYEN is UNEP's strategy for engaging young people in environmental activities. Centre for Environmental Education(CEE) hosted the event together with Environment Ministry. Gopal Jain of CEE and Satwant Kaur, Regional Information Officer, UNEP who conducted the workshop said they were really encouraged with the enthusiasm of the participants this year.
The participants of the SAYEN 2009 were Belal Hossain, Sarah Hassan (Bangladesh), Ruchi Jain, Aparna Susarla, Sharad Sagar (India), Fathimath Munal (Maldives), Jamuna Sharma, Brabim Kumar (Nepal), Muhammad Shahid, Nida Awan (Pakistan). The Sri Lankan team comprised of Dulshan Dulara, Isuru Udara, Shehan Amaratunga, Sashika Lakshani, Yashika, Palinda, Jeewan, Naomi, Nirosha, Vimukti and Sajith.
"We want our voices be heard in the fight against climate change!" was the youth delegates' unanimous declaration.