Water ... mystical and magical, can reshape your home garden landscape. Ancient civilisations considered water as an essential ingredient of a well designed garden. A miniature pond adds an artistic, cooling element to your garden.
Today, garden designers and horticulture suppliers have recognised anew the attraction of water gardening and the materials you need to assemble a miniature water garden are all readily available. Cement mini ponds are not that dear.
These are hardy, artistically carved and long lasting. But if like me you believe in recycling and if you have large used plastic paint tubs (10 litres or 25 litres), consider cleaning them up as they're ideal for mini-garden ponds, once their labels are removed.
Such a tub can be placed in a dugout, given an outside coat of paint of your choice and placed on the ground or on a suitable support. These plastic tubs do not perish for years.
Space to house the mini pond
Home garden ponds do not have to be large and ambitious. Many of us do not have large garden spaces. The apartment dweller has none, but he has his balcony space.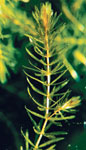 Hydrilla
Wooden tubs and half-barrels have been traditionally used for water features in small gardens and patios. Mini ponds are large enough to provide sufficient room for several decorative (ornamental and flowering) plants and a few tiny fish and can be easily accommodated in a small home garden, balcony or patio.
Plants for your water garden
There are many beautiful water plants to choose from, and they don't cost that much either. I usually pick up a few when visiting friends. Once you collect the plants, though tempting, do not plant lavishly. To create an amicable composition of water plants in a mini pond consider the factors: understand the contribution of the plant to its environment and exercise restraint.
Different water plants
Water plants include oxygenators, floaters, and deep water aquatics. Oxygenators are essential for maintaining a healthy pond environment. All parts of these plants remain submerged. They absorb carbon dioxide and surplus minerals from the water, keeping it clear and clean. The oxygen these plants produce sustains the lives of other pond dwellers. Hydrilla is an oxygenator worth having in your mini pond.
Water lily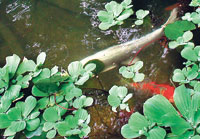 Water lettuce
Plants like water lettuce float on the surface, their roots submerged with leaves spreading on and above the surface. These provide welcome shade and protection to the fish beneath.
A mini pond has enough room for a dwarf water lily or two. The water lily is a deep aquatic. It cleanses the water and provides shade for fish. When fully grown, the leaves spread out on the surface of water, negating the need to have floaters.
A mini pond will do well with a blend of a few oxygenators (five plants), a couple of floaters (two plants) with two deep aquatics.
Aquatic plants do not need rich soil or compost. A healthy growth can be expected with ordinary clean garden soil. Gather soil from a neglected spot in your garden. Sieve out the twigs, decaying leaves and pebbles and place the soil in a tub. Cover with a thin layer of gravel to prevent being stirred up.
A newly set up pond must be allowed time to settle before introducing plants, species by species, starting with oxygenators. After a fortnight or so algae will appear, making the water cloudy. At this stage plants can be introduced. Give the pond plants plenty of sunshine.
Fish is a must for a pond
A pond without fish is a breeding ground for mosquitoes! Mosquitoes spread malaria, filaria, Japanese encephalitis and the killer dengue fever. No pond is complete without a few fish which also add colour and animation to your water garden. Two weeks or so after the plants are in place, fish can be introduced, a pair at a time. Never stock up the pond all at once. Common goldfish, guppies or platys are nice pond fish, the goldfish adding touches of flaming colour amidst the floating leaves. Do not introduce large adults; these are expensive and difficult to bring up. Remember that fish need shady spots to hide when the sun is directly overhead.
Rejuvenating the pond
After a couple of months when the water gets murky, your mini pond needs rejuvenation. It can be resurrected by removing about three-quarters of the water and the humus underneath. Both these are rich sources of nutrients for other garden plants! All that is required now is to top up your mini pond with fresh water. The water garden is self maintaining with little intervention, yet giving you hours of endless pleasure.