Print USA (Pvt.) Ltd. is an offset printing and packaging manufacturer and is a limited liability company belonging to the USA Group of Companies. The USA Group is comprise of three companies which include Print USA, Gurubeula Estate and Trade USA and an associated company which is Flexiprint.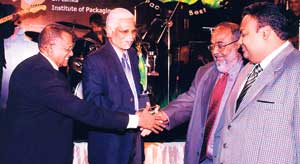 Mr. Sathis Abeywickrama, Chairman and Managing Director receiving the award from the President and Secretary of the Sri Lanka Institute of Packaging while Mr. Isuru Abeywickrama, Director of the USA Group of Companies looks on.
Print USA is a member of the Institute of Packaging which has a fraternity of diversified packaging manufacturers as its members. These members cover a wide spectrum of the packaging industry from the plastic trade, corrugated and wooden box manufacturers to that of other flexible packaging manufacturers etc.
Print USA currently has a workforce of 100 and has established itself as a specialized and focused company servicing the Sri Lankan produce that requires value additions. These include rubber products, tea, pharmaceuticals and garments. As the company provides value additions for local produce it can further be regarded as a catalyst to the Sri Lankan economy.
The Institute of Packaging conducts its annual awards ceremony under the name 'Lanka Star' which recognizes the achievements and contributions made by the membership with regards to the packaging industry. Print USA swept the boards at this year's annual Lanka Star Awards under the Consumer Packaging Category by bagging 2 Gold Medals, 1 Silver Medal and 2 Bronze Medals. However the icing on the cake for Print USA was clenching the coveted President's Award at the awards ceremony by scoring the highest number of marks.
Speaking to the Sunday Times Free Hold Supplement Mr. Abeywickrama said, "Winning the President's Award is a big achievement for our company as well as the entire printing fraternity, especially the offset printing and packaging manufacturer community whom we proudly represent. This achievement has proven beyond doubt that offset printing has been highlighted as a very efficient marketing tool in the consumer printing and packaging industry."
Mr. Abeywickrama entered the print and packaging industry in the late 1970s. In addition to being a veteran in the field of print and packaging his other passion lies in the area of agriculture. Mr. Abeywickrama belongs to the 3rd generation to own the Gurubeula Estate, which is an eco friendly project that specializes in manufacturing yogurt under the brand name Gurubeula, which is well known in the Southern Province.
The USA Group of Companies is a family run business in which Mr. Abeywickrama's wife and son are silent partners in the business. Mr. Abeywickrama is also a Past President of the Sri Lanka Association of Printers and through his many achievements has contributed in many ways towards the progress of the printing and packaging industry.