LS Electric Systems (Pvt.) Ltd., one of Sri Lanka's premier electronic equipment companies, together with their co-marketing provider AKLAN International (Pvt.) Ltd introduced a new, high technology electric product to the Sri Lankan market.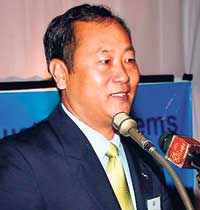 Chairman of LS Electric Systems (Pvt.) Ltd. Mr. Kwang Yeoul Lee addressing the gathering.
The newly launched product, namely SUSOL is a developed version of the AIR MEC series. This was previously available on the product lists of LS Electric Systems categorized under Air Circuit Breakers (ACB) under the name MEC. The new product is an upgraded form in context of quality as well as functionality.
"Through the new changes made in the product, the operating combinations have been made easier and we believe that it will be a good competitor for similar category products manufactured in Europe," said the LS Electric Systems (Pvt.) Ltd. Chairman, Kwang Yeoul Lee. Director/ Chief Executive Officer of AKLAN International, Ravi Rupasinghe who also commented on the benefits stated that due to the high technology of the new product it could be used in various projects which required such skills.
The collaboration between LS Electric Systems and AKLAN International had initiated nearly one year ago. "AKLAN International (Pvt.) Ltd is a company that concentrates their operations in the field of electrics. They were well aware of the product range we offered, the quality as well as the benefits of using them. Therefore, we chose AKLAN International (Pvt.) Ltd. as the best entity to enter into a co-marketing partnership since we are able to reach out to our target markets with more convenience,' asserted Lee.
"We consider this collaboration as a good opportunity to enhance our customer service due to the high quality and functionality of the equipment offered through LS Electric systems," said Director/ Chief Executive Officer of AKLAN International, Ravi Rupasinghe.
LS Electric Systems (Pvt.) Ltd. was primarily operating under the brand Goldstar which was founded in 1974. Later in 1995, Goldstar was rebranded as LG Industrial Systems. However, in 2005 LS Electrical Systems had started operating independently under a mother company named LS Industrial Systems which solely focuses on low and medium voltage products such as MCB (Minirature Circuit Breakers), isolators, UVT releases, magnetic contractors etc.
LS Industrial systems, the mother company of LS Electric Systems (Pvt.) Ltd. excels in a wide range of electric products including electric equipment and systems, automation equipment and systems as well as processed metals and car electric sub assembly which they even provide for premier car manufacturers such as Toyota and Benz.
LS Electric Systems Chairman said that they also had plans of introducing a wide range of automation equipment and systems for the markets of Sri Lanka. "The industrial sector of Sri Lanka is developing rapidly and our products that fit this category will have a lot of potential in the local markets," he said. He also added that once the company buildt a solid market base, they had plans of introducing car electric sub assemblies as well.
AKLAN International (Pvt.) Ltd. which is a member of Electro Metal Pressings (EMP) group offers its customers various high technology services such as turnkey electric projects, electric product manufacturing, electrical equipment trading and marketing as well as electro mechanical projects.