Maliban Biscuits has always been in the forefront of offering high quality products using world class ingredients and state of the art manufacturing processes. The entire manufacturing and packaging processes of all Maliban products are done in accordance with international standards and other leading certifications, which include the Halaal Certification and ISO system certifications.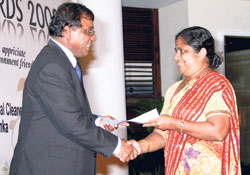 Maliban Biscuits Assistant General Manager Quality Assurance / Research and Development Mrs.Warna Fernando, receives the National Cleaner Production merit certificate 2009 for the third consecutive time. Mr.R.V.D.Piyathilaka , Secretary - Ministry of Industrial Development is handing over the certificate.
All Maliban biscuit products are free from animal fats such as pork and beef fats. Each product of Maliban is high in quality and taste, for example the Maliban Bran Cracker is high in natural fibers which help to lead a healthier life. Products like, Gold Marie, Cream Cracker, Glucomalt and Milk Shortcake biscuits are enriched with vitamins and minerals to give nutrition supplements to customers.
Maliban products come with their own nutrition panels, which are printed, on the packaging to educate the consumer on the content of its products. The Sunday Times Free Hold Supplement spoke to Mr. D.L. Weerasuriya CEO, Mr. Ravi Jayawardena CEO - Sales and Marketing and Ms. Warna Fernando, Assistant General Manager - Quality Assurance/ Research and Development of Maliban to find out about the quality of Maliban products and its certification and why customer care is top priority in their organization.
Halaal Certification
"All Maliban biscuit products are certified as Halaal by the All Ceylon Jamiyyathul Ulama. This ensures that the products are also free from pork fat. Also all Maliban raw material suppliers both locally and internationally too have been authorized with the Halaal Certification, which further guarantees the fact that Maliban products are free from pork fat. In order to obtain the Halaal Certification manufacturers have to change their formulas to meet with the Halaal requirements. Maliban products are free from animal fats and contain only vegetable fats or butter, which includes only milk fats.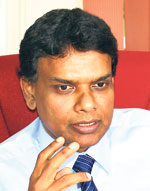 Mr. Ravi Jayawardena CEO - Sales and Marketing
Animal fats may include pork fat (lard) as well as beef fat (tallow) which can be used for food manufacturing purposes. In certain instances food manufacturers may use animal fats to enhance the taste of their products. Which is not always healthy for consumption as it is high in cholesterol, trans fatty acids and saturated fats. In addition, our flavours do not contain ethanol which is not permitted according to Islamic religions requirements, says Ms. Fernando.
Iso 9000 Certified
Maliban is the first biscuit manufacturing company to certify ISO 9001 (Quality Management System in 1995). This Management System ensures the fulfilling of customer satisfaction through quality products.
Iso 22000 Certified
Maliban Biscuit Manufactories (Pvt) Ltd is also certified for ISO 22000 (Food Safety Management System). This system ensures that the final product received by the customer is free from physical, chemical and biological hazards.
Iso 14000 Certified
Maliban is certified for ISO 14001 (which is the Environment Management System). This management system ensures the sustainable development of the company. Maliban is highly committed to prevention of pollution and the preservation of natural resources; minimize the use of resources including energy, water, control of liquid and solid waste.
Winning The Cleaner Production Award
The company also practices cleaner production techniques to minimize their waste generation and optimize the usage of materials / energy / water. Maliban was awarded with 4 merit certificates for excellence and recognition of excellence in cleaner production practices at the National Cleaner Production Award Ceremony for the past 3 years which is conducted by National Cleaner Production Centre and is the only biscuit manufacturing company to win awards in this competition for the last 3 years.
concentrate on supreme quality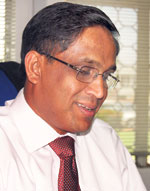 Mr. D.L. Weerasuriya CEO
"We always use genuine cocoa from countries such as Ghana, Ecuador for the production of our chocolate biscuits. Maliban always adheres to superior quality.
However it is our aim to provide the very best of products to the consumer with a minimum profit margin. That's the philosophy of our founder Chairman Mr. A. G Hinniappuhamy", said Mr. Ravi Jayewardene.
Taking Care Of The Community (Csr Projects)
CSR has been in the company's blood ever since its inception in 1962, where it awarded the very first hospital to the district of Galle. The company to this day continuously grows in its CSR efforts; "Computer education is absolutely crucial in today's environment for students to be in touch with the modern day learning, hence we have decided to donate 20 computers every month to schools in rural areas with the aim of building IT knowledge in areas with less facilities across the country.
Last month 20 computers worth Rs. 1 million were donated to rural schools in Kandy, and this month 20 computers will be donated to selected schools in Kalutara", explained Mr. Lakshman Weerasuriya (Group CEO). He further stated that Maliban also releases cattle from slaughterhouses and donates these cattle to poor farmer families in the respective villages with the help of village priests to enhance their lively hood. So far they have released 250 cattle during the last 18 months from slaughter houses.
Winning Customer Confidence
On a final note Mr. Weerasuriya said, "We have over the years won the hearts of customers all over the country. We are an organization with good moral values and always believe in supplying the best to our customers even if it means that we have to sacrifice making large profits. Maliban has become the strength of generations past and present and will be the strength of generations to come as a trusted brand name that offers nothing but the best in terms of quality, taste and nutrition."