The misconceptions are many, with parents believing that the starting point of a child's education is when he enters Grade 1, having set a small foundation through pre-school learning.
Stop right there, says Consultant Paediatrician Dr. Kalyani Guruge of the Lady Ridgeway Hospital for Children, dispelling such ideas and stressing that early childhood development is of vital importance.
The development of the child begins at the time of conception – the time when the father's sperm fuses with the mother's ovum, with brain development taking place long before childbirth.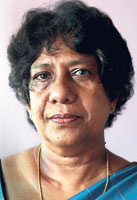 Dr. Kalyani Guruge
"The brain development begins around eight weeks after conception with a rapid increase during the milestones of 3 to 8 years," explains Dr. Guruge who on November 6 took on the mantle of President of the Sri Lanka College of Paediatricians.
Pointing out that the onerous task of stimulating not only the child's physical but also mental growth lies with the parents, she says that teachers come into the picture much later. "Research indicates that the mother is the best person to be the care-taker. When mothers look after the child, the learning is tremendous," says Dr. Guruge.
Whatever you say and do during those early years will be imprinted in the child's mind – that is what will remain with him. From the time of birth the child can see, hear, smell and feel. Look at your baby directly, talk to him, sing to him, cuddle and stimulate him, she says.
Touching on the important aspect of breastfeeding, Dr. Guruge explains that mother's milk has all the components not only for the growth of the child's body but also the brain. "There is an improvement in brain function when a child is breast-fed. As cow's milk is good for the calf, mother's milk is good for the baby."
As the child grows, will also come issues about disciplining him. They understand the difference between yes and no very early, MediScene understands.
"Direct the child rather than controlling him. Without imposing harsh punishment on wrongdoing, reinforce and compliment good behaviour," advises Dr. Guruge, adding that when a child behaves badly, point out that you don't expect such behaviour from him. Explain that his freedom ends where another person's freedom begins.
For overall development of the child, engage in family "things", talk and sing together. When the baby is small take him out into the garden for a walk, show him the trees, flowers and birds. At nine months, a baby can hold a crayon. Encourage him to scribble, she says.
Stimulate the baby by spending time with him and including him in the family's activities, adds Dr. Guruge.
Those all important years

Language exposure – a conversation with a child rather than making the child sit in front of the TV is strongly associated with language development and success in school performance later
Learning materials -- provide opportunities for touching, manipulation and problem-solving
Books, pictures and playing with adults or older siblings -- introduce the child to the written word and help build up the vocabulary