Reigning Sri Lanka Amateur Golf champion Mithun Perera will follow his father's footsteps when he takes part at the Australian Open Golf tournament which will take place from December 3-6.
Mithun's father -- legendary Nandasena Perera -- was the first ever Sri Lankan to take part in the Australian open prior to him turning professional in the afterglow of the 'Silver" at the Beijing Asian Games in 1991.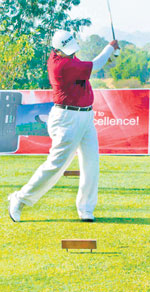 Mithun Perera in action
Though the Australian Open is only for professionals, the 22-year-old Mithun was accommodated at this prestigious event on the strength of him having won the Asia-Pacific Amateur Championship at Mission Hills in Shanghai, China in October 2008.

Mithun, is back in Sri Lanka, waiting to take wing to Australia for his preparations for the Australian Open. He will be leaving Sri Lanka on Thursday. Prior to the Australian Open Mithun will take part in the New South Wales Open from November 26 to 29.

Speaking to the Sunday Times, Mithun Perera said, "The Australian circuit may be my last golfing effort as an amateur. After my excursion in Australia, I hope to enter the Indian professional circuit where there will be around 20 tournaments during the next year. However, before that I will be facing my initial hurdle in the qualifying rounds in India from December 8-11. In India I have won the East India Amateur Championship. Besides that, I also reached the quarter final of the Indian Amateur Open".

Mithun also said that if he could turn a professional in India, his next step would be to enter the Asian Professional circuit within the next two years – a feat that would take him to almost all the golf capitals in Asia. These cash rich tournaments carry a total purse of around US$ 2 million

Besides Mithun, who is planning to join the circuit the other Lankan who is in the Asian professional circuit is former Sri Lanka amateur champion Anura Rohana.

Mithun's gain may become Sri Lanka's loss. For sure his absence will be felt when Sri Lanka look for its share of glory at the 122nd Sri Lanka Amateur Golf Championship which will be teed-off at the Nuwara Eliya Golf Course from Tuesday to Saturday.

Teams from India, Pakistan, Bangladesh and Sri Lanka will participate at this international event. The four countries will be engaged for the Parlakimedi Trophy while Sri Lanka and Pakistan will go stroke to stroke for the Zia-ul-Haq Trophy.

For the first event, each country will be represented by two players while the Zia-ul-Haq Trophy event will see four players each from Sri Lanka and Pakistan. However the two events will be worked off concurrently.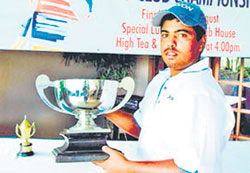 Mithun Perera

In the absence of Perera, the Lankan team will be picked from: K. Prabhagaran who also has won the Lankan and Indian amateur titles before, Tissa Chandradasa, Vijitha Bandara, Amarapadma, J.J. Kumar and Arumugam.

Besides the Gent's team the Lankan Ladies team will comprise Shayanika Fernando and Anouk Chitty.
The International ladies team event will be played between Sri Lanka, Malaysia and Bangladesh.
The Bangaldesh team – Ladies: Fatema Rahman, Lunar Sarker. Gent's Team: Md Shakhawat Hossain Shohel, Md Sayum. Abdus Salam Chowdhury - Manager, Private Entry -Mrs Shaheen Khan
Indian team- (Gents only) Muhammad Ali Hai, Karan Vasudeva, Moin Malak, Arshdeep Tiwana, Nandan Heblikar (Manager)

Pakistan team – (Gents only) Muhammad Ali Hai, Muhammad Safdar Khan, Zulfiqar Ali and Aleem ur Rahman, Shaukat Haider Changezi - Manager.

Malaysian team - (Ladies only) Nurul Syahirah, Aretha Pan, Carrie Anne Nelson and Ms Vimala Arokiasamy (Official).