To those who have in a hundred year history contributed to the build up of the game of rugby the rankings of Sri Lanka in the Asian circuit will be hard to chew. Sri Lanka is ranked 53rd in the world and effectively is 9th in Asia in the XV-a-side game behind minnows China, Chinese Taipei and Singapore.

In the sevens game we are ranked 10th in Asia along with Guam. Ahead of us are Japan, Hong Kong, China, Chinese Taipei, Thailand, Malaysia, India and Philippines in descending order.

Easy as it seems for people to blame all those who have held the positions of power in promoting the game that has had no long term plan. That is what probably the present incumbents who are politically willed to carry the game forward would say. Agreed and accepted despite my recollection that it was not long ago that Sri Lanka was placed much higher in both the Asian as well as the world circuit in both forms of the game.

Substitute that to the XV- a-side game and maybe you can cover being naked to some degree. With the sevens being behind India and the Philippines has no excuse that has any parallel line of comparison to anything that has happened in the past.

Is there anything that has been to set in place a plan to uplift the game? To plan for its upward climb by whoever has to take the game forward in the future. The preoccupation seem to be with issuing some sort of statement more to correct the commas and full stops while the meat of the problem remains as it is.
Take the case of the Asian Series sevens due to be played in November. As at the end of the week we have only announced the squad and practices are yet to commence. Take a look at India who played a few Sevens matches with the Scotland development Squad in October. That Indian squad is named Rugby India CWG development Squad. Commonwealth Games 2010 in India has almost a year to go from now. The squad is in place and in training. In Sri Lanka squabbles and petty ones seem more important as we stutter along the slow path.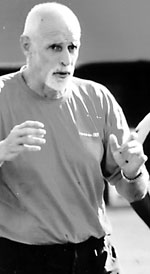 Simpkin looking for nuts and bolts
The event of respite for the moment is the Carlton Sevens. This is on its way and heading for launch during the week end starting November 27th. George Simpkin who is no stranger to rugby in Sri Lanka is burning midnight oil not only in planning but also in making sure the nuts and bolts are in place. I understand the major issue on hand for George is that he finds more nuts than bolts. George is a seasoned campaigner with the experience of Hong Kong and Kandy Sevens will at the end leave behind more people with experience in handling a tournament as he has done in Kandy in the past.

It is expected that 12 teams from Asia will vie for the Asian Sevens. A notable absentee as I understand is our closest neighbor India who have been active in the Asian sevens Circuit. They were seen in Shanghai, Borneo, Brunei and Singapore.

There is expectation while George is working hard to get more international rugby on display with some top names stopping over on their way for the Dubai Sevens. The teams expected in Dubai include South Africa, Fiji, England, New Zealand, Australia, Samoa, Kenya, Argentina, Wales, Scotland, USA, Portugal, Zimbabwe, Russia and France. If even a few of them can come there will be rugby that will be great.
The selling point here is the games to be a build up on the way to Dubai. This is something that can be worked out and can form a stepping stone for the future. The interim has very little to leave behind to those who are expected to top drive the game in the future. This however if well handled can be a legacy that the Doctor can leave behind. The success of this tournament can pave the way forward to leave behind an inheritance that can mark Sri Lanka again on the international rugby map. It can also give probably an opportunity to be a revenue earner if and when the big names decide to come back again. That requires marketing for those not only in SL but outside say in India who can have the opportunity to see some great rugby action.

While all this can be done what is needed to inject fuel and life into the game has to be studied and addressed. Look at India, Malaysia, Philippines and Thailand. They make use of the eligibility law and persons to qualify for playing for the country. India as well as the Philippines has playing for them people who have roots in that country but are now domiciled in Europe or America. They have had a plan and this has been in place for some years and they are reaping the benefits now.

Vimal Perera is a former Rugby Referee, coach and Accredited Referees Evaluator IRB