"Displays a deeper understanding of just how to design for our climate and region," writes a pseudonymous blogger about Halketha. The writer was comparing the property with Sri Lanka's boutique hotels, usually cluttered with designer bric-a-brac that looks good in a magazine spread but is impractical for casual tropical living.
Sri Lankan owned and created on a 10-acre rubber and tea estate, Halketha sounded intriguing as a simple change from glamorous resorts. It turned out to be more than that. It is one of those places that for selfish reasons, I – as a hotel reviewer – am reluctant to write about. Halketha has only two units so if too many people know about it, how will I ever get a chance to stay there again? If it sounds like your cup of (low-grown) tea, then go soon before it is fully booked by people keen to escape the cacophony of Colombo.
A blanket of peace swaddles Halketha; no sounds of traffic, police sirens, schoolchildren shrieking or waves pounding the beach. Mobile phone contact is patchy; there is no instant internet access and no in-room telephone, just a hand bell to summon the steward. Yet, all this serenity is within a short drive of the west coast town of Kalutara and less than two hours from Colombo.
The drive to Halketha and tranquillity involves getting to Mathugama town centre where by the roundabout and bus station, take the Naboda road to the left (if approaching from Kalutara) for one km. At the sign (in Sinhala) announcing Major Sudeera Premadasa Mawatha, it's a right turn to drive three kms through paddy fields. After a sign marking Vogan Estate, the road runs through a glade of rubber trees and out again. Then there's a sign on the right by a gate announcing Halketha and here I hesitated wondering what was in store. A lane led through tea bushes up to a mud wall with a thatched awning and an ancient wooden entrance with a low transom.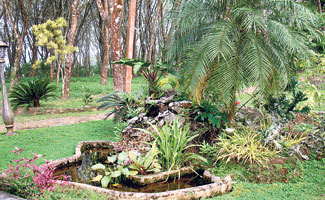 A corner of the garden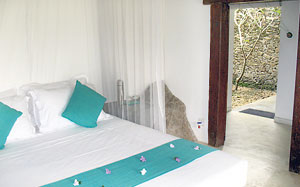 Surangana cottage with open-air bathroom
I crouched low, as though entering a wardrobe, and stepped into an orderly garden of rubber trees, tea bushes and neat crannies of flowers. A steward presented a cool towel, later followed by freshly squeezed pineapple juice, and I discovered that serenity even in a rural location has a sophisticated side.
Halketha functions like a hotel with rooms available by advance reservation for the night, no minimum stay. The accommodation is in two separate units, both called – perhaps too pompously for their delightful simplicity – villas. Cottage is a better description.
The one known as Surangana consists of a sitting area and comfortable double bed with a canopy, a dressing room and a charming granite-walled bathroom, partly open to the sky with a rock to sit on under a young araliya tree. The floors are cool concrete and there is a fan (no air conditioning) perfectly in keeping with the cottage's atmosphere. (But there's television, if you insist.)
A thoughtful touch is the provision of a torchlight to strap around one's head when venturing out into the garden at night, although that is enticingly decorated with burning candles and oil lamps. To suit long-stay guests, the cottage has a pantry and refrigerator. A hammock swings between two rubber trees by the entrance patio.
The Kasyapa cottage is a grander affair, reached up a flight of steps from the garden of rubber trees to a verandah, ideal for sundowners. The door opens to a staircase going down into a double bedroom with bold blue drapes. Leading from it is an open-air bathroom and a room with another bed, suitable for children or for a dinner guest who doesn't want to go home. Halketha has that effect on casual visitors; they want to stay too.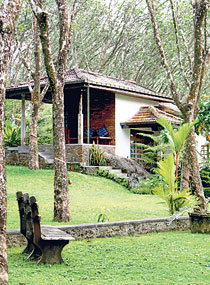 Kasyapa cottage
Meals are served wherever guests want. There is an open-sided dining pavilion with a long dining table, or a table can be set up on a veranda, on a granite platform in the garden, and even in a mud-floored, thatched kiosk overlooking a pond brimming with fish.
A guest commented in the Visitors' Book: "Very well kept property with attention to detail in almost every area that is not seen in many of the best hotels that I have visited."
What's not likable about Halketha? Well, there's nothing to do! Actually, you could borrow a bicycle and explore the country lanes, stroll among the rubber trees and tea gardens, potter in a canoe on the pond, sway in the hammock with a book, play badminton, enjoy delicious local cooking (the caramel pudding is especially recommend by guests), or simply laze away a few days in perfect solitude. Bliss.
To stay at Halketha, telephone 077 632 1787 in advance. Rates are from Rs. 3,000 nett per person, full board.